So maybe Kate Hudson was right on in How To Lose A Guy In 10 Days. There are certain situations where you've been with someone and simply don't want to continue seeing them. But breaking up verbally is just such a draaaag. Luckily, we've compiled some perfectly horrendous moves to pull when you want to gross someone else out to the extent of no return.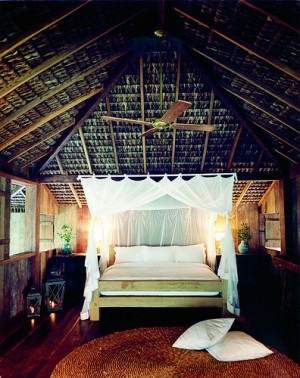 1. Farting. Although queefing is generally acceptable in bed, scatological functions? Total no-no. If your girl has no sense of gas humor, this is the best way to gross them out. Brownie points (hehe) for letting a super huge wet one rip right as you start your business. If you're a girl, any type of fart will probably stave off future visits, a la Carrie in Sex and the City.
2. Name-calling. Now, there's nothing wrong with LGBT love, but for straight couples, there's nothing more horrendous than a girl making sweet, sweet love to a guy only to have him shout out "OH YES STEEEEVE!" This one definitely works better for the guy, but calling your man "Nancy" during peak love-time will surely make him squirm.
3. Peeing. Remember how your parents would yell at you for wetting the bed when you were younger? Forget EVERYTHING they taught you and just go nuts. If you're worried about getting your clothes wet, simply shed them and have a field day when the other person is in the bed. Guys, feel free to write your name in pee on the girl's body. Girls, asking a guy to pee inside of you will probably creep him out.
4. Bring God into it. As long as you're not dating some crazy religious fanatic, this is a good way to creep somebody out. Feel free to get creative with this one – say a prayer before sex, during, and after. Sub in wacky euphemisms in your prayers for sex, i.e.: "Dear God, Thank you for letting me get honky tonky with ________, who is so down and dirty I want to scream." (Following up with a real scream earns you bonus break-up points).
5. Get in touch with your inner hippie. Saving the environment and advocating civil rights is totally cool and all, but what happens when you bring your views into the bedroom? Make your bed with construction paper, apologizing for the coarseness but saying the material lasts for up to 7 years without washing and you're on the 6th year. Sprinkle the pillows with dead leaves instead of rose petals. Bonus points for bringing moss and plants into foreplay when you know your partner has a mold and grass allergy.
6. Celebrate Halloween everyday. Old Hallow's Eve provides an endless list of ideas to literally scare someone away. Insist on trick-or-treating at their neighbors' every evening in the nude as a warm-up. Follow this stunt with a ghost fetish reenactment by cutting holes in your nice sheets and throwing them over their head while getting down and dirty. Demand that he fulfill your needs at the nearest graveyard at midnight, bringing a black cat to complete the spooky atmosphere. Dump a pillowcase of empty candy wrappers over his or her head as they try their gosh-darnedest to please you.
7. Girls: Reenact Sex and the City. Very few straight males appreciate this now-defunct HBO premium series. In fact, merely mentioning Carrie Bradshaw's sexual antics will send guys away screaming. Use this to your advantage, ladies. Spend the first half of the night playing Sex and the City Trivia Game before suggesting moves you learned from Cynthia Nixon's character. Pull a Charlotte and freak out about not having kids rightthissecond and get a small dog named after a pretty actress to compensate. Lastly, pull a freakishly weird sex fetish move vis-a-vis slutty Samantha before touting it as the newest trend (feel free to refer to above ideas).
8. Don't get fancy, just get dancey. Take a lesson from P!nk and use your slick, slick moves in bed. No, I'm not talking about drawing ideas from the grindtastic college lifestyle of partying. I'm talking about full-on dancing to the Macarena while your significant other tries to seriously engage in lovin'. Try a new aerobics dance routine, or pull out some moves you learned from your friend's Bar Mitzvah in seventh grade. When questioned, reply that you forgot to workout today and whatever he or she has planned tonight simply won't cut it.
9. Forget to groom. 'Nuff said.
There's a solid starting list for driving someone away. Feel free to comment with your own wacko nut-job ideas to give someone a subtle hint that they're just not right for you.