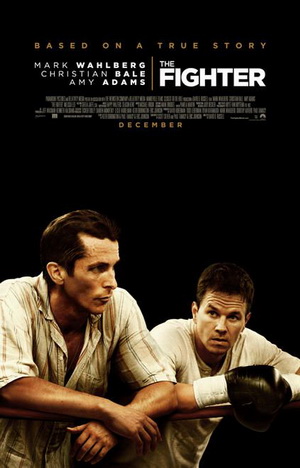 The Fighter, like most inspirational sports movies, is the kind of film where you know the ending before it starts. It boils down purely to how director David O. Russell executes a familiar story, and in this case, the execution is top notch. Were it anything less it would've felt routine, but its performances and direction save the film from being generic and turn it into something quite exceptional.
Based on the true story of Massachusetts boxer and local Lowell legend "Irish" Micky Ward (Mark Wahlberg), The Fighter starts with Ward as a struggling and aging fighter who's still eager to take one more shot at glory before it's too late. He has the talent, there is no question about that, but he's being constantly held back by the suffocating control of his family who mismanages him into fights that he's lucky to walk away from alive.
The chief members of that family include Alice (Melissa Leo), his mother and manager, and his older half-brother and trainer Dicky Ecklund (Christian Bale), who earned the nickname "Pride of Lowell" after once knocking down Sugar Ray Leonard before throwing his own boxing career away for crack addiction. Those closest to Mickey, most vocally his new girlfriend Charlene (Amy Adams), see how his family is holding him back and urge him to move on, but Mickey is reluctant. They're his blood, and even if they poison him, that counts for something.
And perhaps that's what makes the situation so tragic. These are people who truly think they're doing the right thing for Mickey and are too narrow-sighted to see the consequences. There are no plot twists here. We know that to achieve greatness, Ward will have to deal with his family and become his own man and his own fighter.
By all indications this should by Wahlberg's film to run away with. But just as how in real life Mickey was overshadowed by Dicky's reputation around the neighborhood, in the film Wahlberg's fine performance plays second fiddle to Bale's utterly brilliant turn as  Dicky Ecklund.
To say that Bale steals the show makes it sound like a hijacking, a malicious act. What he does is actually more impressive than simply being standout. He takes an already solid movie and makes it flex every time he is on screen. It becomes deeper, more powerful, more engaging. Even when he isn't on screen, his presence hangs over the film like smoke lingering long after a cigarette has been extinguished.
In the past, Bale has endured drastic physical changes to get into a role. This is no exception. His bones show through his cheeks and his eyes look truly lost, but he backs up the physical changes by being able to capture the manic electricity that made Dicky a hometown hero to begin with. Through much of the movie we try to hate him, but we end up hating how transfixed we are by him. This is not to say that the other performances are lacking. Wahlberg and Melissa Leo both turn in great work, and even Amy Adams makes something worthwhile out of Ward's inspirational girlfriend, easily the film's blandest role. Even the smaller roles, especially the comic relief of Ward's rabid band of sisters, are played pitch perfect.
Working off of these performances, Russell is able to really make the film feel authentic. Sure, he shoots Lowell with a sort of romanticized grit and grime that seeps into all Hollywood films set in New England, but here it doesn't seem like a cliché. It feels real. He shoots the boxing matches to look like a television broadcast image, but still gets each blow to hit the audience hard (much of this can be credited to the film's sound design crew). Just as was the case with 127 Hours earlier in the year, Russell is able to make the audience sweat out an ending they already expect. That's the mark of a true talent.
Predictable but still powerful, The Fighter is able to rise above being a traditional sports film into one of the year's better offerings, and also showcases one of Christian Bale's best performances in years: B+