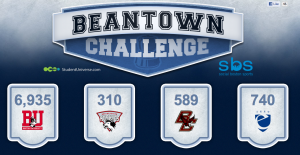 BU may not have done so well at one big game this week (shall we not talk about it, then?), but it's looking like we'll still kick the pants off of BC in another high-profile competition: The SCVNGR Beantown Challenge. The players in this game are all of BU's smartphone-wielding students, and the stakes are high: in addition to holding citywide social media bragging rights, BU's top players will receive prizes, and word on the street is that Dean Elmore might be planning to throw an insane party if BU does well enough (more on that later).
If you're not one of BU's many internet-obsessed students, you could be forgiven for not knowing what that vowel-less thing is. Like check-in pioneer Foursquare, SCVNGR is a location-based game that's played on smart phones. Players can complete various challenges at different businesses across the world in exchange for points, which eventually add up to rewards like free food.
The company that makes SCVNGR is based in Boston, and for the next week they're sponsoring a special competition between four area schools – BU, BC, Northeastern and Emerson – to see which one can rack up the most points by completing challenges at fifteen locations around their respective campuses. For BU, locations include the GSU, COM, CAS, Warren Towers and SMG. BU's team is lead by three of BU's most social media-savvy students: Alex Shuck (COM '11, @alex11shuck), Rachel Sprung (COM/SMG '11, @rsprung) and Michael DeFilippis (COM '13, @mgdefilippis).
So, how is the trio doing at rallying BU's online squad into action? As it turns out, really, really well. BU racked up over 1,000 points on the first day of the competition alone, and at the end of the day on Tuesday was sporting a total of 6,935 (and counting) points. Emerson is the next-closest school, with 740 points. Compared to BU, the College on Chestnut Hill's 589 points is barely a blip on the radar. DeFilippis credits BU's deep bench of experienced SCVNGR players for the success.
"Myself and the two other coordinators [Sprung and Shuck] have a dedicated team of seventeen other BU students who are already experienced in SCVNGR," DeFilippis wrote to the Quad via email. "As our 'ambassadors', they are on the front lines of campus getting the word out and telling their friends to do challenges and friend our #BUSCVNGR account. As for the other schools, we're not quite sure where their heads are."
But team BU can always use more talent, and there are big incentives to start now. According to DeFilippis, "people should play because of the prizes. We already gave away two Beanpot tickets and a night with Dean Elmore to yesterday's player who completed the most challenges. Today (Tuesday) we will be raffling off two Celtics tickets to the player with the most completed challenges."
More prizes will be given away throughout the week, but if that isn't incentive enough, BU team leader Rachel Sprung dropped this bombshell on Tuesday:
[blackbirdpie url="http://twitter.com/#!/RSprung/status/34992802219687936″]
DeFilippis refused to comment further on his co-coordinator's tweet, but the rumor has the BU Twitterverse positively buzzing. With close to 7,000 points, it seems like reaching the 10,000 mark will be a sure thing. As for BC's 600, well, I seem to remember a certain chant that applies pretty well to this case.
Want to get in on the action? Visit SCVNGR.com, download the app to your iPhone or Android phone, and then follow the instructions on the BU SCVNGR Facebook Event page. The contest runs from now until Monday, February 14.