Hallmark's favorite holiday is right around the corner, leaving people stressed out and confused about what to do for their special someone. But if you're not as excited as bunnies in springtime, maybe you and your partner should channel some ancient secrets.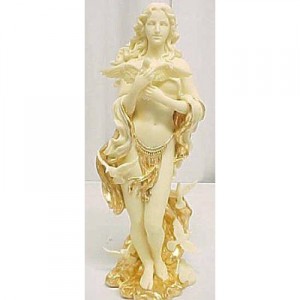 Eroticism has a distinctive role in ancient Greek myths. Tricks were played and substances were used to attract lovers and to create passion. It is no wonder that the Greek goddess of love, beauty and sexuality, Aphrodite, inspired the English word "aphrodisiac."
Aphrodisiacs are substances that have been believed to enhance sexuality and libido through chemical reactions in the brain. Unfortunately, science tells us there is no food that magically makes one want to hop in bed. However, there are foods that offer nutrients to make your body happier, and happier bodies are much more likely to have the energy and confidence it takes to be physically satisfied in a relationship. This Valentine's Day, chow down on these so-called aphrodisiacs with your sweetheart to get you going. Feel free to forget about science for the day; sometimes the placebo effect alone can do the trick!
Night on the Town?
Oysters are the most well known aphrodisiac. Greek myths tell us Aphrodite was born on the back of an oyster in the sea, and the mollusk's shape appears to look like a special lady part. The best part of oysters though is that they contain zinc, and your body uses zinc to make testosterone.
Since shucking oysters takes a special tool and skill, I suggest you go out for this passion-inducer. Summer Shack in Back Bay has a fabulous raw bar with lots of local oysters to choose from.  If raw oysters scare you, they also have excellent fried oysters, fresh seafood and the best fried chicken.
Tasca is a romantic Spanish restaurant in Brighton where you can easily fill up on some aphrodisiacs with your date. In addition to fantastic entrees, they have a great tapas menu so you can order a larger selection of small dishes to share. Look for items with saffron, garlic, basil and wine. Saffron has been shown to stimulate the erogenous zones and act like hormones. Garlic has been viewed as an aphrodisiac in many cultures and religions, but be sure to have strong breath mints for after dinner. Basil can arouse your sex drive and wine enhances the romantic mood.
Don't Feel Like Going Out?
If you're stuck on the college budget (or just want to be closer to the bedroom), start your night out with some guacamole. Mash two avocados with the juice of one lime, ¼ cup chopped red onion, ¼ cup chopped tomato, salt, pepper, hot sauce and some cilantro. The Aztecs' word for avocado, ahuacatl, means testicle and the fruit was used as a stimulant for sex. Among other great nutrients, avocados have vitamin B6, which can increase good hormone levels.
You can make a very simple and delicious dessert that is a double whammy aphrodisiac. Melt a cup of chocolate chips in the microwave. Skewer 2 bananas on sticks and dip the bananas into the melted chocolate. Set them on a wax paper-lined plate, add some Valentine sprinkles if you like, and leave them in the freezer until you are ready to go.
The bananas will give you potassium and vitamin B to increase hormones while the chocolate's phenylethylamine will stimulate your endorphins.
But no matter how you spend your Valentine's Day this year, I hope it is delicious.