The band: Ishmael.
The keywords: Variety, Talent, Originality.
The verdict: See them live.
The self-described "Frippian Euphoric Post-Funk" New York foursome, comprised of Aaron Silberstein on drums, Nick Otte on bass and lead vocals, Jordan Lewis on guitar and vocals and Andy Werle on guitar, rocked the Middle East Upstairs Thursday night with a set the likes of which I have never heard before.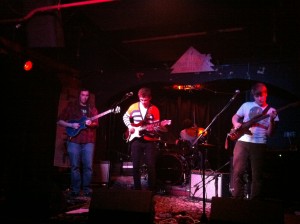 "I wouldn't say that we're a post-rock band," said Otte. The music contains "aspects of [post-rock] but also the complex, compositional aspects of progressive rock. Less soundscapes and more intricate parts."
"It's more an aesthetic thing then post rock," Lewis agreed.
When asked about their top five bands that influence their music, Lewis said immediately "Alright let's just agree – Mastadon" to which the other three quickly concurred. The list eventually expanded to include Pelican, The Bad Plus, Brian Eno, Mogwai, and Umphrey's McGee.
"[Umphrey's McGee] listen to a lot of different kinds of music and they bring it together into one sound that's a cohesive sound and you can tell that it's them," Werle explained.
This pretty much summed up exactly how I feel about Ishmael.
The complexity and originality of the music was there from the beginning as Ishmael kicked off their set with "Rain", falling immediately into a groove with nods and sways and looks of pure joy on their faces. Both Lewis and Werle plucked away on guitars, mixing the heart of the song with poppy moments of Surfer rock alongside Otte wailing "rain" — the song's single lyric — on the mic.
From there, the range of influences appeared at every turn, moving somewhat unsteadily at times from bluesy bass riffs to mariachi-speed guitar to percussion so intense that Silberstein actually beat a hole in his bass drum. The Bad Plus's influence was clearly there in "Pomegranate" and in their cover of the Smiths' "Bigmouth Strikes Again" featuring Otte's vocals that sounded exactly like Morrissey's.
The Mogwai-inspired wall of sound hit hard in "Jonesy", and Ishmael's talent was apparent in the ease with which they transitioned from swaying summertime blues to rocking Mastadon-esque darkness and back again without missing a beat in "Kansas 1940, In The Future" showcasing the "drastic, dynamic changes" Silberstein described.
Ishmael ended their set with "Premium Beach" which brought the set full circle ending with the same grooviness and euphoria they started with.
As Werle described, their live show contained "the visceral aspect of the music. You feel it."
"It's really our own," Silberstein said. "It's really original."
The band said that they hope after hearing their music the audience would say "I've never heard that before," and it is the honest truth that I have not. Ishmael has in their music an original sound and range that will, fingers crossed, take them far.
Listen to Ishmael on their website or Myspace, and follow them on Twitter or Facebook