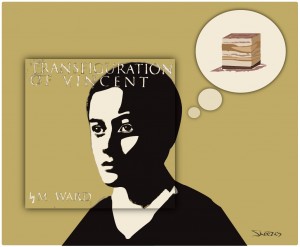 Last week, indie folk rock godfathers M. Ward and Jim James of My Morning Jacket launched a new blog. What sort of wonder were these musicians going to reveal? Information on a new Monsters of Folk album? Tales of life on tour? Stupid things Zooey Deschanel says?
Not quite. They actually started a blog about créme brulée.  It's called the Créme Bru-Log, an online resource for critique and tastings of créme brulée from around the world. This may seem like a joke, but "MW" and "J. James" (as they are cited on the site) actually know their stuff, which got me wondering, what other indie rock stars could blog about their favorite culinary adventures? Well, I have a few suggestions:
Bon Iver— Frozen Food. Anyone who has ever even seen either of Bon Iver's album covers knows Justin Vernon's obsession with winter. Because of this, he could easily write about what foods would take you through three months locked in a Wisconsin cabin, but someone already did that. So, I suggest Justin Vernon start blogging about frozen foods. Since he's such an expert on the cold, he could tell us which Steamfresh vegetables to buy, and how to properly reheat frozen soup (which is a great way to store the stuff), and which Ben & Jerry's flavor is his favorite. I bet it's Chunky Monkey.
Dan Deacon— The Munchies. Most college students will tell you that two feelings go hand-in-hand: the desire to eat a giant bag of Doritos and the urge listen to Dan Deacon. The psychedelic-synth-musician must already know his demographic, so why not bank on it by suggesting which snacks go best with songs like "Woof-Woof"? If all goes well, Deacon could eventually make his own line of chips, cookies, and snack-cakes that each complement any of his albums perfectly.
Iron & Wine— Whiskey. Maybe it's because the word "wine" is in the band's name, maybe it's because frontman Sam Beam's name sounds too much like Jim Beam, but listening to Iron & Wine makes me think of people sitting on large, southern porches drinking flasks of whiskey. Even lyrics like, "Your mother is drunk as all the firemen shake," from the song Cinder and Smoke conjure images of whiskey-peddling grandmas in Georgia. But I want the inside scoop — I want to know what Mr. Beam himself drinks on one of those lonely nights, and once again, Iron & Wine branded spirits would sell.
The Knife— Cutlery. Ok, go with me on this one. Sure it's based on a simple pun, but The Knife, the Swedish shock-electronica brother/sister duo are the perfect people to blog about knives. They would certainly know whether to get a Henckels or a Wüsthof to butcher that side of beef. More importantly, I just love the idea of Fever Ray coming into someone's home to sell them a Cutco set. Think about it.
Arcade Fire— Childhood Favorites. So we all know that Arcade Fire frontman Win Butler has some sort of complex where he keeps referring to him and his band as "kids" (See: Month of May, Neighborhood #1, Wake Up), so it's only natural to assume that the Grammy-winning Canadians eat nothing but mac 'n cheese on tour. In a blog, we could read about Regine Chassagne's best method for making peanut butter and banana sandwiches, or have the entire octet vote on which Lucky Charms marshmallow is the best.
So there you have it, perennial Pitchfork favorites. I implore you to take M. Ward and Jim James' lead and blog about food. Music is so 2010. Food blogs are happening right now.