Philip J. Crowley is a funny man. The Assistant Secretary of State for Public Affairs, informally known as "PJ," visited Boston University's College of Communication yesterday, speaking at length about the role of social media and WikiLeaks in diplomacy. He gave a short lecture that was followed by a lengthy question and answer session in which students asked questions covering topics from tweeting in Tunisia to WikiLeaks in Washington.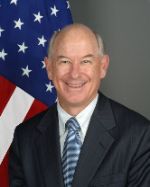 Crowley spoke clearly, convincingly and with a good deal of humor. His first topic was, not surprisingly, the effect of WikiLeaks on the State Department. There was an air of absurdity to some of his comments. One story, about meeting with the editors of the New York Times regarding sensitive information released on WikiLeaks, was downright comic.
"They were standing there with binders holding cables [released by WikiLeaks], and we were standing there with binders holding cables, and the only difference was, ours had 'Top Secret' written on the top," Crowley said.
Humor aside, his stance was simple. The American government supports an independent media, and the government is accountable to its people. However, he said with a wry smile that "even Coca-Cola has its secret formula." Transparency, he said, does not mean there are no secrets.
He also addressed the affect of social media, particularly Twitter, on foreign diplomacy. Crowley is active on Twitter himself, and earned a shout out last year from MSNBC's The Daily Rundown for a humorous tweet about Jimmy Carter's trip last year to North Korea to secure the release of a captured American. When asked what role he thought Twitter had played in the Tunisian uprising, he responded that Twitter was not responsible. Rather, it acted as an "accelerant," easing the process of communication for those who were already "standing and demanding."
Students asked questions about several controversial topics, including the relationship between Turkey and the United States after embarrassing information was released through WikiLeaks, the readiness of the United States government to work with a democratic Egyptian government unsympathetic to the United States' policy goals, and crumbling relations with Pakistan. Although Crowley occasionally replied slightly to the side of the question, he was candid about his relationship with the media and with the media's relationship to the people.
Although some of his comments had a bureaucratic feel, his candor and humor ultimately made a convincing argument that it is both "possible and necessary" for transparency and confidential information in government to co-exist, and that media, even social media, can only help that process.