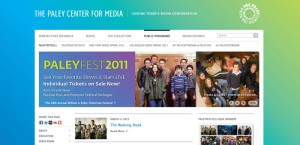 "Good evening, nerds!" Judd Apatow's 7 year-old daughter Iris greeted me and the rest of the packed Saban Theater in Los Angeles for the reunion of the cult, short-lived shows Freaks and Geeks and Undeclared. Both created by Apatow, neither Freaks and Geeks nor Undeclared lasted more than a season, but both shows launched the careers of many of today's funniest young actors. Iris Apatow's greeting would have been just as fitting for myself and my compatriots two nights later at PaleyFest's panel for the king of the meta-shows, Community.
Before I proceed, allow me to presume that most of you are unfamiliar with the Paley Center and PaleyFest, their annual lineup of nerdtastic panels on television's hottest shows. It's okay. Not everyone can devote the same awesomely-excessive amount of time to television as I do.
The Paley Center for Media, based in both New York and Los Angeles, strives to "lead the discussion about the cultural, creative and social significance of television, radio, and emerging platforms for the professional community and media interested public." Every year, (among their many other educational events) they host PaleyFest, which boasts a 28-year history of bringing favorite shows to the people. There was one aspect of the Paley Center's mission statement that was readily apparent at both the Freaks and Geeks/Undeclared and Community panels last week: television is a social experience.
Sure, Jason Segel lead the Undeclared cast and creators in cracking jokes at the expense of star Jay Baruchel, and it's hard to say who took more playful abuse; the absent James Franco (who played dreamy bad-boy Daniel in Freaks and Geeks) or anyone in the Community cast who dared interrupt hilariously spacey Chevy Chase. But lying not too far underneath the surface of all three gatherings was a real connection between these groups of people. As an audience member, I couldn't help but think I was watching something really special.
I'm not sure if I can speak for my fellow fans, but judging from the deafening cheers that accompanied Joan Jett's hoarse growl (her song Bad Reputation) over Freaks and Geeks' opening credits, or the minutes of laughter that accompanied an audience member shouting one of Community's best catch-phrases ("POP POP!"), the audience connected with these shows as much as the actors connected with one another.
So what is it about these three televisual gatherings of awkward, sweet and less-than-perfect (excluding Joel McHale as Jeff Winger, of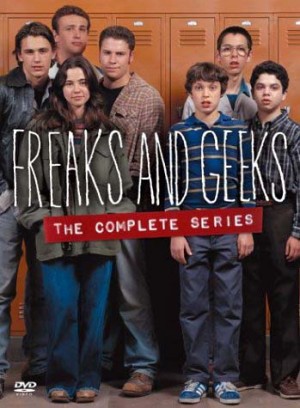 course – swoon) characters? In my humble opinion, the greatest strength of the two short-lived Apatow series and recent brainchild of showrunner Dan Harmon is their willingness to be honest. Freaks and Geeks especially offers a hyper-real portrayal of American high school life. Sometimes your hippie guidance counselor meddled in your life (when he should have been getting a haircut), sometimes fights with your parents took a really ugly turn, and sometimes even the pretty girls farted.
Furthermore, while Community takes a – shall we say – less-than realistic approach to storytelling, Harmon and the show's writers are not simply spouting off lists of pop culture references. Many of the audience questions at the end of the panel revolved around the genre parodies that the show is now known for. But showrunner Harmon pointed out that the hilarious bending of genre tropes (chicken finger GOODFELLAS, paintball John Woo) is never a priority. Harmon told an eager audience that the "concept" of an episode is never the starting point. The writers put story above all, and the emotional interactions between characters are the genesis of an episode, not a parody concept. Before "Contemporary American Poultry" poked fun at Scorese's film, it was a story about a struggle for power between leading man Jeff Winger and Community's meta-bard, Abed.
As far as I can tell, Undeclared, Freaks and Geeks and Community are all rule-breakers. Already Community has lasted longer than the first two (with a third season announced just this week – rejoice!), and there's no doubt that my fellow uberfans at PaleyFest are ready for more.
There were quite a few other highlights for both evenings. A crowd-pleasing episode of Undeclared, featuring a slightly-insane guest star, Jason Segel, was screened before the Undeclared panel began. The panel included most of the cast, many of whom stuck around as part of the Freaks and Geeks half of the night. The high school counterpart to Undeclared was short one aforementioned dreamy star (who did send in a video poking fun at himself for hosting the Oscars with Anne Hathaway), and the rest of the cast had no problem making fun of his notorious method acting while he wasn't around.
The Freaks and Geeks panel was especially impressive given that so many of the awkward teens in the show are now huge stars. Jason Segel, Baruchel and Seth Rogen are probably the most famous of the FnG crowd, but his fame didn't stop him from spontaneously running offstage, declaring that he had to pee.
Community was also absent two of my personal favorite cast members, Allison Brie and Donald Glover, who were both filming other projects. While Judd Apatow and FnG co-creator Paul Feig remained rather quiet and let the funnymen and -women do their thing, Community creator Dan Harmon was very open about his somewhat-neurotic writing habits, and gave plenty of well-deserved kudos to the writing staff in the front row of the audience.
If you have never watched any of these three fantastic shows, you better be headed to Netflix right after you're finished reading this. Community has flirted with so many different styles of storytelling that there's something for everyone and it always stays true to its characters. And if you've ever been in high school or college (so, like, all of you), you'll find plenty of hilarious and embarrassing truth in Freaks and Geeks and Undeclared. As for you already knowledgeable nerds, check out the Paley Center website to see all the things they have to offer for the media-obsessed.