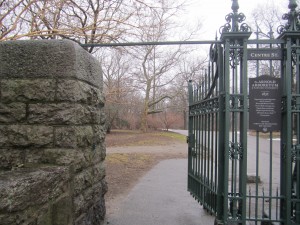 This is the third in a weekly series with BU Now that highlights Seniors' sage advice on absolute must-dos in Boston. Looking for the ultimate list of things to experience before graduation? We've got you covered!
While I love romping around Allston or Coolidge Corner as much as the next BU student, after the third night weekend in a row spent on Harvard Ave., I get a creeping feeling that I've seen it all before. And that's when I head over to Jamaica Plain.
Perhaps better known for attractions like the Samuel Adams Brewery and Forest Hills Cemetery, I love JP for its local-centric, DIY culture packed with kitschy shops, organic lunch and dinner spots and gorgeous green spaces. The 4.4 square mile neighborhood, sandwiched by Brookline, Roxbury and Dorchester, has one of the most distinctive feels of Boston's many neighborhoods. Where else could you find a fair trade and organic deli and feed store? Or a tapas bar, record and book store all under one roof? Just JP.
Longtime Jamaica Plain residents and business owners have been in the know about the virtues of locally sourced food for many years now, so delectable, healthy fare is the standard at many restaurants lining Centre Street. Also a haven for artists, Jamaica Plain is home to exceptional art galleries, music venues and funky little shops filled with things you didn't know you needed. Don't hesitate to head over at night either – Scottish pub, The Haven, old school Doyle's Café and the Bella Luna Milky Way Lounge are all worth the trip to JP.
Getting there is easy enough though, with a short ride on the Green line and a transfer to the Orange. Then you can get off at Stonybrook, Jackson Square, Green Street or Forest Hills and be in the center of it all.
On a recent rainy Friday afternoon, I walked down Centre Street and snapped some photos of what I found. Look through them for a peek of what Jamaica Plain has to offer and then get over there before you graduate.