Being able to tell your friends that you went to a hootenanny (an informal folk-music gathering), having the opportunity to say the word "hootenanny" many times, and listening to some fine local, acoustic music are all totally credible reasons to attend one. But at tonight's hootenanny held in the Harriet E. Richards co-op house, which cleverly named Give a HOOT, you can add one more reason to the list: supporting women and disabled children in Niger.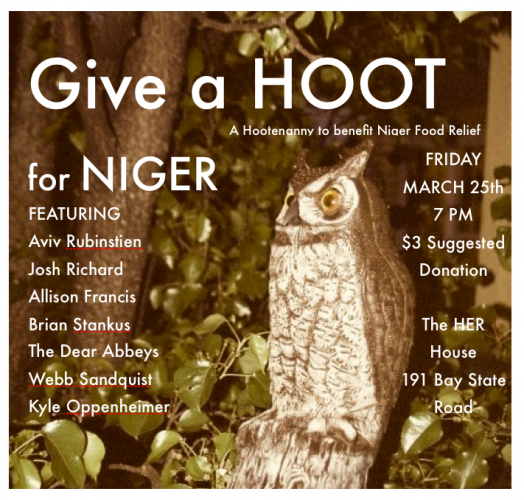 Give a HOOT for Niger, sponsored by the HER House, is a straight-up hootenanny with performances by over 10 different Boston University and local musicians. But more than being a fun, folk-filled evening, the proceeds from the show are going toward the Boston University Niger Alumni Network.
The HER house typically holds a few charity events each semester, so when the BU Niger Alumni Network (BUNAN) reached out to them earlier this semester, the HER House thought it would be a great fit, said Head of the Event Planning Committee Rachel Bennett (CAS '12).
Although the study abroad program in Niger was cancelled in January because of an increase in attacks against foreigners, alumni of the program have held onto a strong bond with the country and the people who live there.
Proceeds from the hootenanny will go to one of two non-governmental organizations (NGO): Aiki Yanke Talauci, a charity in Niamey that runs finance programs and job training programs for women, and Le Pélican, the only school for disabled children in Niger, said Co-Chair of BUNAN Shira Tiffany (CAS '11), who went to Niger in spring of 2009.
Le Pélican was funded by a Belgian NGO, but they recently pulled the funding, Tiffany said. Since then, the school has been unable to pay its rent, is facing eviction and hasn't paid its teacher's salaries in seven months.
That's where Give a Hoot comes in with a chance to hear local musicians in an intimate space while supporting BUNAN's worthwhile causes.
Among the musicians are Aviv Rubinstien of indie-billy-punk  group Pray for Polanski, folk singer/songwriter Allison Francis, Josh Richard of Cities and States and a slew of other local acts who will unplug their instruments for an acoustic song or two.
The HER house also has a baby grand piano and the organizers encourage anyone to bring a guitar for an impromptu open-mic session.
"Anyone is welcome to bring an instrument as long as they keep it acoustic," Bennett said.
Give a Hoot for Niger will be held on March 25 at the HER house, 191 Bay State Road, from 7 p.m. – 10:30 p.m. There is a suggested donation of $3.