It's finally April, and, at long last, festival season is upon us. Soon, weekends will be spent walking/sprinting/climbing (mostly) shoe-less from one side of a field/park/street/fence to the other, clad in sweat-proof gear and Ray Ban's chatting about bands, clothes, and how it's so effing hot. Whether you're in the states or abroad, here is a break down of some of summer's most-anticipated music festivals.
Coachella: Indio, California/April 15-17.
Major Players: Kings of Leon, Arcade Fire, Kanye West/The Strokes
As one of the first festivals of the year, Coachella is the perfect kick-off to summer. Nestled in the Coachella Valley of sunny Indio, California, Coachella seems the place to play for some of this years up-and-comers. I'm dying just looking at this list. Mumford & Sons, Interpol, Robyn, Bright Eyes, Animal Collective, Thao and the Get Down Stay Down, Jimmy Eat World, Ratatat, The National and Cold War Kids are just a few of the incredible bands Coachella booked for 2011. If you're going– we do have that Monday off for Marathon Monday–I suggest seeing Neon Trees on Sunday. They're incredibly fun, and will help get you amped for The Strokes and Kanye that night. Note: This festival is sold out.
ATP Curated by Animal Collective: Minehead, UK/May 13-15.
Major Player: Animal Collective
All Tomorrows Parties (ATP) throws a number of bashes throughout the year. They chose Animal Collective to curate the festival weekend in May based on their phenomenal success from Merriweather Post Pavilion. Festival acts are set to include Gang Gang Dance, Meat Puppets, Big Boi, Atlas Sound, Eric Copeland, Beach House, and Kurt Vile and the Violators. I've never been to an ATP festival, but this weekend promises to be a weekend like no other.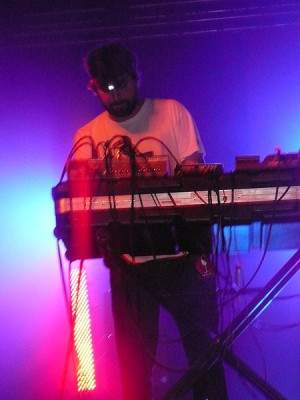 ATP is also teaming up with Portishead in July to curate England's first I'll Be Your Mirror Festival. The festival will take place July 23-24 in London, and will feature acts by Portishead, PJ Harvey, and Grinderman.
San Miguel Primavera Sound: Barcelona, Spain/May 25-29
Major Players: Echo & The Bunnymen, The Flaming Lips, The National, Animal Collective
Primavera Sound is a five-day celebration of music known for its wide range of acts. Split between two stages – Wednesday and Sunday at Poble Espanyol and Thursday through Saturday at Parc del Fòrum – Spain's biggest music festival will also include Sufjan Stevens, The Walkmen, Tallest Man On Earth, Mogwai, Galaxie 500, Del Ray and Belle & Sebastian. While some shows will be in the Auditori with limited capacity, the event page describes Primavera's location as "perfectly connected with the city centre … Its big spaces and auditoriums facing the Mediterranean, allow the audience to enjoy the event in a beautiful setting." As if anyone needed an extra reason to go.
Sasquatch: George, Washington/May 27-30
Major Players: Foo Fighters, Death Cab for Cutie, Modest Mouse, The Flaming Lips, Wilco
Located in the Gorge Amphitheatre, Sasquatch is a festival much like Primavera. People flock for the music and enjoy the breathtaking scenery. Sasquatch is spread over four stages, and will possibly be the mellowest four days in May.
Note: This festival is sold out.
Summer Camp: Chillicothe, IL/May 27-29
Major Players: moe., Umphrey's McGee, Widespread Panic, STS9
If Washington's too far to go to get your mellow on, Summer Camp certainly puts the "chill" in Chillicothe. Billed as "3 DAYS OF MUSIC, CAMPING, AND MORE," Summer Camp will feature moe. and Umphrey's McGee for all three days.
Wakarusa: Ozark, Arkansas/June 2-5
Major Players: My Morning Jacket, Ben Harper and RELENTLESS7, Thievery Corporation, STS9
Taking place again at Mulberry Mountain for the second time, Wakarusa's kickin' four-day fest more then makes up for the long trip out.
Rock am Ring/Rock im Park: Nürburgring/Nuremberg (respectively), Germany/June 3-5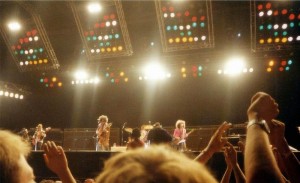 Major Players: Kings of Leon, Coldplay, System of a Down
Rock am Ring and Rock im Park occur simultaneously, with Rock am Ring taking place at the Nürburgring racetrack in West Germany, and Rock im Park happening around the Frankenstadion in Nuremburg (South Germany). Other face-melting acts include Korn, Deadmau5, Social Distortion, The Kooks, and Mastadon.
Other Eurpoean rock and metal festivals include Novarock (Pannonia Fields, Austria) Download (Leicestershire, UK), and Dour (Belgium)
Bonnaroo: Manchester, TN/June 9-12
Major Players: Eminem, Arcade Fire, Widespread Panic, Buffalo Springfield feat. Richie Furay
Celebrating their 10 year anniversary, Bonnaroo's lineup this year looks way better then last year. Eminem jumps out as a unique headliner in the festival season, as does String Cheese Incident. So jump in your van, kick off your shoes, and drive down for a weekend that has never failed to be as massively fun and hot as, well, you know. Other acts include Beirut, Gogol Bordello, Lil Wayne, Iron & Wine, Explosions in the Sky, Greg Allman and Florence + the Machine.
Solid Sound: North Adams, MA/June 24-26
Major Players: Wilco (headlining Friday and Saturday), The Levon Helm Band
In their second year, Wilco's Solid Sound is really bringing the rain with the most unique lineup of the summer. Solid Sound features not only musicians, but also artists and comedians. Other acts include Here We Go Magic, Handsome Family, Story Pirates and Thurston Moore. The music and arts festival will be held at the Massachusetts Museum of Contemporary Art in the Berkshire Mountains.
Oxegen: Punchestown, Co. Kildare, Ireland/July 7-10
Major Players: The Black Eyes Peas, Foo Fighters, Arctic Monkeys, The Script, The Strokes, Coldplay
Oxegen Weekend seems like one of the most exciting festivals of the summer, with typical summer acts like The Strokes mixed in with The Arctic Monkeys, Paolo Nutini, Jimmy Eat World, and Two Door Cinema Club just to name a few. If you're going to choose one European festival, Oxegen looks sick. Careful though, their 17 and over policy is strictly enforced.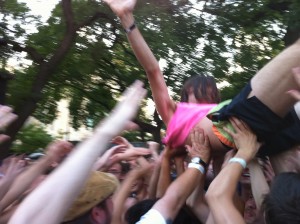 Pitchfork: Chicago, IL/July 15-17
Major Players: Animal Collective, TV on the Radio, Fleet Foxes
Pitchfork holds a special place in my heart as one of the less-hectic festivals of the summer, and the place where I first discovered lemonade with watermelon. The stages are set in Union Park, and this year's lineup looks as good as ever: Neko Case, The Dismemberment Plan, Sun Airway, Cut Copy and Deerhunter are just of the few names already announced. Tickets for Pitchfork are available on ticketweb.
Newport Folk Festival: Newport, RI/July 30-31
Major Players: The Decemberists, EmmyLou Harris
Newport Folk has the pleasure this year of having Boston's very own David Wax Museum grace its stage, and for that reason alone you should go. Other acts include The Head and the Heart, Justin Townes Earle, Freelance Whales, and acoustic performances by Tegan and Sara and Elvis Costello, rounding out the New England area as one of the finest folk scenes in the country.
If folk music isn't your thing, Newport Jazz Festival takes place on August 5-7.
Lollapalooza: Chicago, IL/August 5-7
Rumored Major Players: Eminem, Foo Fighters, Muse, 30 Seconds to Mars
While the official Lollapalooza lineup will be shrouded in mystery until later this month, rumors have been flying around regarding Chicago's iconic festival. Held in Grant Park during the first weekend in August, Lollapalooza curators are rumored to book acts who've had explosive years like Best Coast, Lykke Li, and Crystal Castles. This year also marks Lolla's 20th anniversary, so fingers crossed for Jane's Addiction.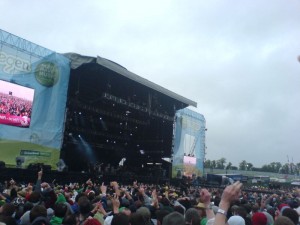 Festival Republic Presents Reading and Leeds: Reading and Leeds (respectively), England/August 26-28
Major Players: My Chemical Romance, The Strokes, Muse
England's own simultaneous rock fests are going to be a great way to end the summer. The festivals, held in Richfield Avenue, Reading and Bramham Park, Leeds will happen over the August Bank Holiday weekend, and will feature acts like Pulp, The Offspring, Interpol, 30 Seconds to Mars, Rise Against, Jane's Addiction, Beady Eye, The Kills, OFWGKTA… the list goes on and on. The NME/Radio 1 stage seems like the one to camp-out at.
Other great festivals include Summerfest, Paleo (Switzerland), and, of course, the Vans Warped Tour.