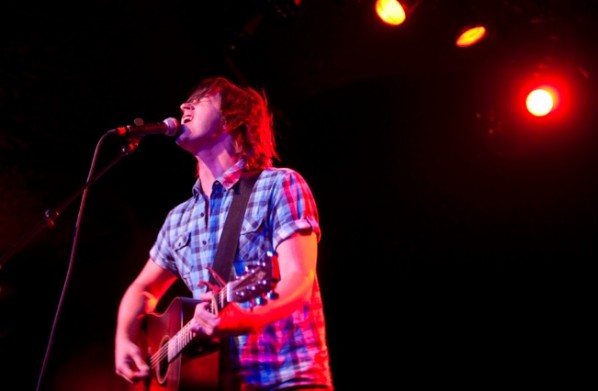 The Old 97's have aged since their 1993 formation — as have their fans — but it hasn't impaired anyone's ability to rock. The four-piece alternative country band played a sold-out show at the Royale on Friday, performing a total of 30 songs in two hours.
Recurring themes of the show included trains, girl problems, and a lot of whiskey. Frontman Rhett Miller gave a strong performance, delivering his characteristic heartsick bellows with melodic power, and emptying several plastic cups of amber liquid in between songs.
The band was energetic and spot-on, living up to their reputation as a great live band. Miller's compelling stage presence kept his audience entertained throughout the night, and he enjoyed the attention as well.
The audience was a mixed bag, but everyone was enthusiastic and happy to see the Old 97's. I suspected early on that the crowd's energy formed a direct correlation with the rate at which Miller banged his incredible sweaty mop of hair. My suspicions were confirmed by the fourth song, a rousing rendition of "Buick City Complex," in which Miller asked the crowd, "Do you wanna mess around?"
"Not 'yay Rhett,' yay y'all!" said Miller in response to cheers.
High points of the Old 97's set included "Won't Be Home," "Big Brown Eyes," and the crowd favorite "Barrier Reef," in which Miller belts, "My name's Stewart Ransom Miller / I'm a serial lady killer / She said, I'm already dead / That's exactly what she said."
The band also debuted a few new songs from their upcoming release, The Grand Theatre Volume II. Among those was a never-before-performed song called "I'm a Trainwreck," which Miller said was written in Massachusetts. The crowd received the new songs warmly, but of course relished the chance to holler along with familiar choruses.
The night was filled with drunken anecdotes that repeatedly inspired the crowd to raise their glasses.
"If you have a big decision you gotta make, I've got a suggestion," Miller announced. "Maybe you don't have to make that decision." He quickly revised this statement to advise letting whiskey make the decisions.
Miller pounded the rest of his drink, and the band wrapped up their set with the well-liked "Four Leaf Clover," before returning to the stage for a six-song encore. Miller played the radio-friendly "Come Around" solo and acoustic (for those who think they haven't heard Miller, this one will erupt from your memories dating back to the beginning of the millennium). The appreciative crowd swayed along.
Keeping with the Massachusetts theme, the band covered the Pixies' "Wave of Mutilation" and co-frontman Murray Hammond quipped, "this is Boston, not L.A." The band also played "Dance with Me" and "Victoria" before ending the show with a much-anticipated performance of "Time Bomb," their signature closing song.
The Old 97's have stood the test of time. Though they are not a household name, they've built a loyal fan base who is not afraid to get drunk and dance after almost 20 years of music. As long as people want to hear raucous, twangy rock and roll music, Rhett Miller will be making it — provided a bottle of Jameson is within reach.