I met Roberto Amaya last year when I started to work as a student event manager at lectures and receptions at the Boston University Castle. During the two or three hours that the lecture would be going on, I would sit upstairs in an office, and sometimes Roberto, who is in charge of the facilities at the Castle and the BU Pub would stop in and talk. One day he told me about a charity he started for his home village of San Vicente in El Salvador.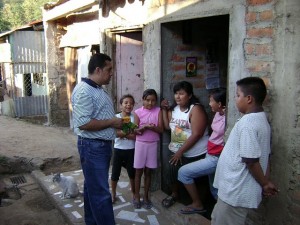 Over the next few weeks, he continued to tell me about the children and the elders they were helping, how he felt he needed to do something for them because what the government was doing was not enough. He showed me the videos he recorded of families receiving food and donations, and it became obvious that his story and his charity's story needed to be told.
In November 1998, Roberto Amaya burst his appendix, forcing him to stop his work in construction for six months. He had some time to think.
"I began to find myself," says Roberto, sitting at a large round table in a Castle office. "What exactly am I going to do with so much time to think? That day I began to pray and I made a promise to start helping kids and the senior citizens."
Roberto followed through on his promise and created the Comite Vicentino, so he could give back to the elders and children with special needs in his village of San Vicente, El Salvador and redefine what he wanted to do with his life.
ROBERTO'S STORY
Roberto was born in San Vicente and lived there until he came to the U.S. in 1984, after fighting in the army for two years during the El Salvadorian revolution.
He met his wife, who is from Portugal, while they worked a part time job in Burlington. They have two sons: Nery, 25, and Tommy, 15. Roberto became a U.S. citizen in 1995 and started working at the Castle in 2000. The rest of his family—his mother and two sisters—still live in El Salvador; his father was killed by a drunk driver in 1998, at the age of 58.
Although he has lived in America for 27 years, Roberto refuses to forget the people that still need help in his home village.
FOOD, TOYS AND 600 CHICKENS
After Roberto created the Comite Vicentino, he started to reach out for support.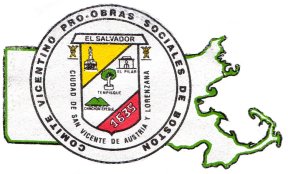 "I called my close friends that I can trust and I told them to support kids and senior citizens."
Roberto assembled an original group of about 15 people, most of whom he knew from growing up in San Vicente.
First, they started helping senior citizens in his city of San Vicente. Because many families cannot afford to support their parents, they will abandon them at hospitals. The hospital staff then calls Asilo San Ignacio, a nursing home for abandoned elders. To support the home, which is often overflowing with residents, Roberto's charity donates food every month, along with wheelchairs, walkers and canes.
The special needs children of El Salvador are supported by the government but, he says, it is often not enough. There is a school for special needs children in San Vicente, to which Comite Vicentino donates food and toys every month. They also donated 122 bunk beds and helped build a fence around the school after it was broken into several times.
"We can help them. We support them, so at least they have milk and eggs," says Roberto. "The kids are young and the government helps too, but not enough."
Their biggest annual charity event involves 600 chickens: one for every house in an El Salvadorian village. For the last eight years, the charity has donated one chicken per family on Christmas Eve. At 9 a.m., they go to the priest and have him bless the toys and the chickens, then have a huge event in the park for the children, with a mariachi band, clowns and, of course, Santa Clause.
This is just a small part of the work Comite Vicentino does. They also raise money for victims of natural disasters, help support individual cases of extreme poverty and support day cares.
The group raises money by holding weekend fundraisers at clubs and restaurants, as well as a major soccer tournament fundraiser every June, where hundreds of people gather to watch four or more teams face off.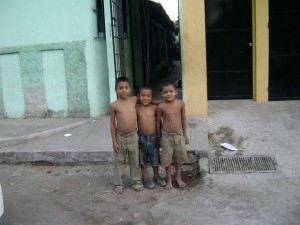 La Conciencia
Roberto's story is one of making the most of his available resources, not just to his home village, but to those who need it.
"Anything happening in [El Salvador] we're able to support even if it's not our city. Also here in America we are here and ready to help. We live here, but thank god we have most of the things we need in America. It's hard for our countries," he says.
Mayra Villalta, one of the original members of Comite Vicentino, says she finds a connection to the work because she has a special needs child.
"One of my dreams is for the children in El Salvador to have the same opportunities that [my daughter] has," she says, in a phone interview. "We cannot do it all, but we can do something to share with them."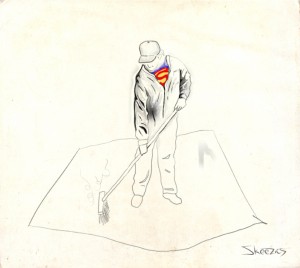 Luis Rodriguez, another longtime member of the Comite, says "It's our way of sharing the little we have here with the poorest of the poor that we left behind. No matter what religion and the social class, if we can help, we do it."
There is a word, Roberto says, that embodies what he is doing: conciencia, or consciousness.
He uses it when encouraging people to volunteer or donate. He says it means, "Remember when we used to have a bad time, those days when we lived really bad? Now we can help, let's get together and give another chance to these people."
Learn more about Roberto's charity at comitevicentino.org (translated into English).