The 2011 Boston Midnight Marathon Bike Ride, took place on Monday, hours before the first marathoners set foot on the road. The event, organized by Societies of Spontaneity, was the third of its kind. It was also the one with the greatest number of attendees.
Swarms of bikers clad in colorfully reflective attire crowded South Station on the eve of the 115th Boston Marathon. The more than two hundred bikers waited anxiously to be allowed onboard the 11 p.m. Framingham/Worcester Commuter Rail. At around 10:30 p.m. they were escorted onto the platform and into the train one by one. Bicycles were placed on three-person seats and groups of roughly 20 people took a place in each cabin.
The train arrived at Southborough station slightly after midnight. Immediately after, the mob of cyclists spilled out of the train and walked their bikes to a parking lot on Southville Road. Soon after, two hundred and thirty people rode their way their way to Hopkington, the starting line of the Boston Marathon.
Starting at 12:30 a.m. bikers crossed the Boston Marathon starting line and decorated MA-135 with flashing red lights. Bikers rode at their own pace, stopping now and then to fix flat tires or take water breaks. Often, precautious cyclists warned those in front of them to stay on the far right side of the road, yelling "car!" Nevertheless, the route was mostly exclusive to the bikers.
As Wellesley College got closer, participants were encouraged, in the cue sheet distributed at the beginning of the event, to "imagine [the] scream tunnel at Wellesley College." Many stopped to take pictures along the route, capturing the night as they passed commonly known landmarks.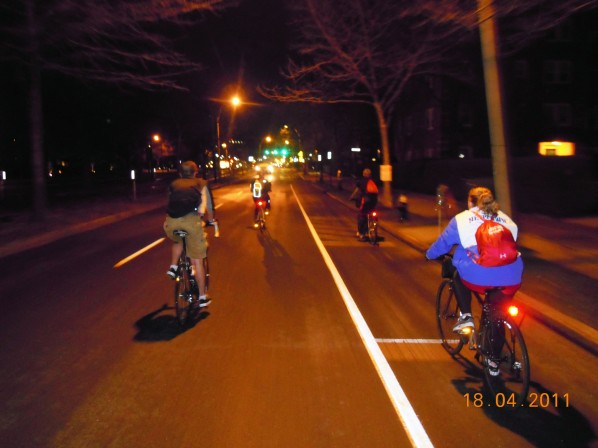 At mile 20, several bikers stopped to prepare for Heartbreak Hill; others rode into it as if it was any other hill. Afterwards bikes zoomed past Cleveland Circle and onto Beacon St. as cyclists realized the finish line was not far.
Around 2 a.m. the first bikers rolled into Copley Square having ridden the whole 26 miles. They crossed the finish line, just as runners would ten hours later, proud of completing the challenge. "[I] was so happy I was able to do this! Two and a half hours [was] definitely better than I thought," said Alyssa Carey (SMG '13).
The Boston Midnight Marathon Bike Ride caters to those who are not able to run the marathon but want to travel the 26-mile route. People of all ages and physical conditions are encouraged to participate. Since its first occurrence in 2009, the event has gained popularity and increased significantly in size, as twice as many cyclists participated this year as 2010. "I call this success," tweeted Eddric Lee, one of the organizers and riders of the event.
For information about the event visit: Boston Midnight Marathon Ride