There is one dish that is almost always on the minds of little kids, a dish that most, if not all of us have had time and time again. Spaghetti and meatballs is a staple of more than just Italian cuisine. There are many variations on the simple recipe of meat, pasta and tomato sauce. In this post, you will find a recipe that caters to the little kid that hopefully still resides somewhere in you.
It may seem like a hassle to make this traditional meal, but fear not, this recipe goes back to basics and simplifies each step. Give it less than an hour and you will have a delicious dinner to satisfy a hungry appetite.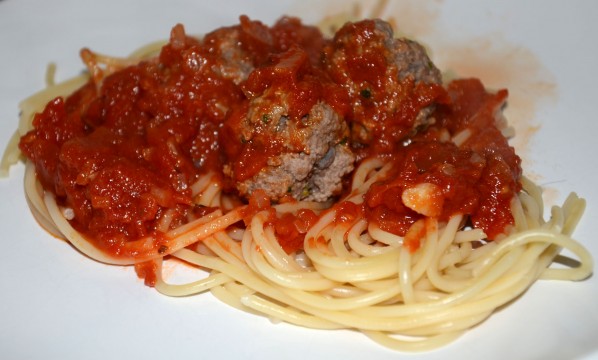 Spaghetti and Meatballs (adapted from How to Cook Everything by Mark Bittman)
Meatballs
2 slices thin whole wheat bread
½ cup low-fat milk
½ cup chopped onion
1 ¼ lbs. ground sirloin
½ cup grated parmesan cheese
¼ cup chopped parsley
Salt and Pepper
1 cube beef bouillon
3 cups of water
Soak bread in milk until soggy, about 5 minutes. Squeeze excess milk from bread and combine gently with the rest of the ingredients, season with salt and pepper. Shape into 1 – 1.5 inch meatballs and press lightly.
Bring water to a boil in a pot and dissolve beef bouillon cube. Carefully place meatballs, working in batches into simmering bouillon. Cook for about 10 minutes. Place meatballs in a paper towel-lined plate to drain.
Tomato Sauce
3 tablespoons olive oil
1 small onion chopped
24 oz. canned tomatoes, peeled and chopped
Salt and Pepper
Heat olive oil in large saucepan over medium high heat. Once heated, add onions and cook until soft, about 3 minutes. Add tomatoes and season with salt and pepper.
Cook uncovered for about 10 minutes, stirring occasionally.
Spaghetti and Meatballs
Cook 1 lb. spaghetti according to package instructions. Drain and serve topped with tomato sauce and meatballs.