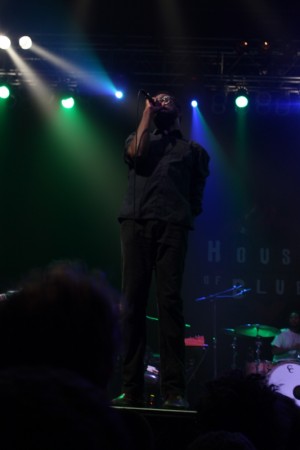 Ah, Record Store Day. Celebrated annually on the third Saturday of April, it is a day entirely devoted to music and locally-owned record stores. Many artists drop super-special, vinyl-only releases, making them exclusively available at record stores and hot commodities amongst music-lovers and audiophiles alike. There are in-store signings, performances, and kick-ass sales that allow music lovers to get records they otherwise never could have shelled out the cash for. The releases on the top of my list were the Limited Edition, 2-track 12″ from Radiohead, featuring the songs "Supercolider" and "The Butcher" and the Gorillaz 180 gram release of The Fall.
Record Store Day was extra awesome this year, as the Newbury Comics on Newbury St. had an in-store performance by Worcester natives DOM and a signing by none other then Tunde Adebimpe and Kyp Malone of TV on the Radio. The store was awash with anxious faces as people furiously flipped through records, trying to find special Record Store Day swag as DOM's show took place in the back of the CD section, a wall of Red Sox gear backing the cramped performance. The band was great, and fans enthusiastically danced and sung along to the set, which included covers of "Little Red Corvette" and "Sweet Child of Mine."
At one point, front man Dom crowd surfed, which was pretty impressive considering the space is seriously tiny. Guitarist Cosmo also went into the crowd during the song "Bowflex" ("You know – like the workout machine" said DOM) where he did not so much "surf", as was lifted up by the crowd, wailing on his guitar and narrowly avoiding the ceiling lights. The show ended with "Living in America" and DOM followed their stellar performance with a signing.
The crowd thinned for the next hour or so, but the aisles quickly packed up again as the line grew for TV on the Radio.  We were close to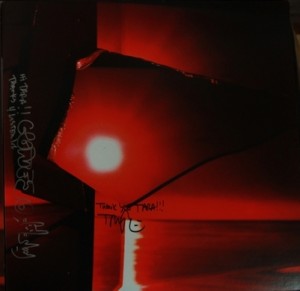 begin with, and in less then no time there he was. Tunde Adebimpe. The soon-to-be love of my life, smiling that gorgeous smile, signed my Nine Types of Light record with excessive exclamation points after my name (My name! He both wrote and said my name. His voice. I died.) My record was then passed to Kyp Malone, whose face crinkled into a smile and drew what looks like a bunny and unreadable bubble letters.
If meeting TV on the Radio was great, the show that night was even better. Opener Lissy Trullie kicked off with a rocking rendition of Hot Chip's "Ready for the Floor." Her voice was deep, and her sound was more rock then indie, all of which I seriously dug. The New York band played a lot of songs from their new record, making for a solid set. Based on their performance that night, I'm psyched for the album, which is set to drop in the fall. Lissy Trullie finished the set by saying that touring with TV on the Radio is "damn exciting. They're a great band and it's an honor to be invited to that level."
TV on the Radio came on around 8:30, and proceeded to jump, spin, and full-out rock their way through an hour-long set. While they didn't play the songs I expected (no "Halfway Home", "Dancing Choose" or "Second Song"), TV on the Radio played beautifully from all of their albums, starting with "Young Liars" from their 2003 EP of the same name, and then diving right in to a swinging "Wrong Way" that had a distinctly 50's vibe. "Caffeinated Consciousness" and "Blues From Down Here" were sheer perfection.
With all the bouncing and dancing and gesticulating, it's no wonder Adebimpe was out of breath as he gestured wildly at the higher notes and said "some of the notes may not be as… crisp. Up here."
He certainly fooled me as he crooned all night, and damn – he can move. It was easy to get into the dancing mode because Adebimpe simply did not quit for a second. He introduced his bandmates with a simple "You know my friend…", and then said "And I am the Ghostface Killah" before launching into a salsa-y "Crying"
"Will Do" broke my heart wide open with the ending ooh's. Dave Steik hung wind chimes from his guitar and let them chime against the cymbals, lending a Romantic air to the love song. The rest of the show verged on the edge of pure rock with hints of swing.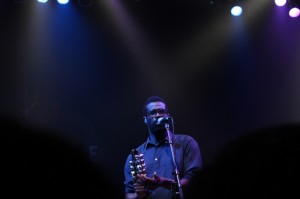 "Repetition" was particularly memorable as Adebimpe turned on a red police light and stood on the feedback screaming "My repetition! My repetition is this!" while the audience jumped and sang along, losing ourselves in the song and in the show. The main set ended with a gloriously epic "Wolf Like Me", leaving us begging for more.
The band walked back on stage, and said "This song is about… zombies! Live, freaky zombies all the time!" before launching into "Forgotten." TV on the Radio ended the show with "Satellite", also from the Young Liars EP, showing that while the setlist was from all over their discography, TV on the Radio has always known how to make excellent music.
The band was touring without bassist Gerard Smith, who was being treated for lung cancer. Smith was diagnosed last month, and passed away Wednesday (4/20) morning. According to a statement on TV on the Radio's website, all tour dates from April 20-26th will be cancelled. It's a huge loss, and he will be missed.
Setlist:
"Young Liars" (Young Liars EP)
"Wrong Way" (Desperate Youth, Bloodthirsty Babes)
"Caffeinated Consciousness" (Nine Types of Light)
"Blues From Down Here" (Return to Cookie Mountain)
"Will Do" (Nine Types of Light)
"Ambulance" (Desperate Youth, Bloodthirsty Babes)
"Crying" (Dear Science)
"Staring at the Sun" (Desperate Youth, Bloodthirsty Babes)
"Repetition" (Nine Types of Light)
"Wolf Like Me" (Return to Cookie Mountain)
Encore:
"Forgotten" (Nine Types of Light)
"Red Dress" (Dear Science)
"Love Dog" (Dear Science)
"Satellite" (Young Liars EP)