Waves of fans crushed into a packed Paradise Rock Club on April 16 to see Colorado-based electronic duo EOTO perform. The band's set ranged from dubstep to house-influenced techno to a cover of Far East Movement's "Rocketeer."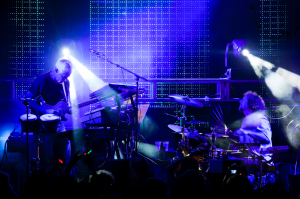 The catch? All of their music is one-hundred percent live and improvised with no script, planning, practice or backing track behind them. EOTO's Jason Hann and Michel Travis have an uncanny ability to work together spontaneously to create pieces that could pass as having taken months to develop. Their talent might seem too impressive to believe, but their live set proves the band is simply just that: impressive.
For their current tour, the band is working with visual artist and lighting guru Zebbler, who crafts improvised animations that serve as a backdrop for EOTO's sets. As the band performed on Saturday, Zebbler tweaked and moved his animations to match the beats of EOTO's unrehearsed performance.
Ravers and hippies alike bounced along to the group's set, produced by an arsenal of DJ equipment, laptops, iPads, soundboards and live instruments surrounding the musicians and filling up the entire stage. Their live show is unlike any other electro DJ set, with a constant exchange of energy between the audience and the musicians to create a one-of-a-kind concert experience.
Hann and Travis, both with backgrounds as professional drummers, came together to form EOTO in 2006. As one of the only mainstream dubstep livetronica acts, their sound varies from electro-influenced to slightly psychedelic  – it all depends on what the duo feels like playing on that particular night.
Even more impressive, all of their albums and studio recordings are entirely improvised too, allowing listeners to gain a clear concept of the band's progression throughout their career.
EOTO offers live recordings of most of their shows on their official website, as well as summer tour dates, tour videos and more. Check them out online at www.eotomusic.org.