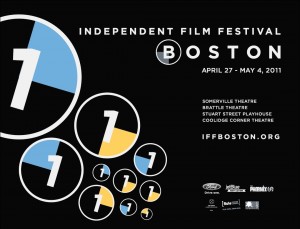 The Independent Film Festival of Boston, the most attended film festival in the New England area, gets underway this Wednesday, April 27 at the Somerville Theater in Davis Square. For the week, the festival will host screenings at some of Boston's best movie theaters, including the Coolidge, the Brattle, and the Stuart Street Playhouse. In the past the festival has played host to films that have gone on to much greater recognition (Winter's Bone, 500 Days of Summer), and this years group looks to build on the festival's already solid reputation.
I'll be covering the event next week, but in the meantime I've had the opportunity to preview some of the festival's entries before their official screenings. Read my thoughts on them below, and hopefully check some of them out next week.
Burma Soldier
Produced by HBO, Burma Soldier is a shorter documentary (70 mins), but it makes exceptional use of the time it has in bringing us a snapshot of the seemingly endless conflict in Burma. The film centers itself around Myo Myint, a former soldier in the Burmese Army turned advocate for democracy after his experiences in the armed forces. Myint is a perfect subject; his body is a testament to the brutality of war (he lost both an arm and leg in a mortar blast), yet his heart is still in love with the country. He carries a bag of Burmese soil with him in case he finds himself homesick. Burma Soldier is occasionally graphic, but it needs to be in order to illustrate how high the stakes are for those opposing the Burmese regime.  It is a relief that Myint is able to share his mission and his story with us, a tragedy that so many more have been silenced in trying to do the same. Sunday, May 1st at 12 p.m., Somerville Theater. The film will also air on HBO2 on May 18.
Fanny, Annie & Danny
Chris Brown's film, a low budget family reunion from hell, is the kind of movie that works well when it isn't trying to blow us away, but sort of crumbles when it does reach for bigger things. The film follows  three siblings drawn home for Christmas dinner, each bringing with them their personal problems and resentments, which boil over in the presence of their venomous mother. When the film is subtle it works well; the conflicts don't feel forced and it carries a darkly comic undertone that's quite effective. There are also moments of very real sadness that are executed with poise. The problems come when the film tries to get too outwardly dramatic. It loses its better qualities and turns into what feels like a very forced shouting match. The quieter, funny moments are what keep the audience interested. It's just a shame there aren't more of them. Saturday, April 30 at 8 p.m., Somerville Theater.
Windfall
There's a very good chance that Windfall will be the best looking documentary screened at this years festival. Taking aim at the wind energy movement, the film uses the small farm town of Meredith, New York to rail against the industry it refers to as "big wind." At first it's a bit slow and unconvincing, as many of the townsfolk opposed to the installation of wind turbines seem to be mostly concerned with their appearance and sound instead of any larger issues. But this conflict gets much more interesting as the film moves on, and eventually we're drawn in because of the human conflict as the once peaceful town becomes more and more divided over the issue. Windfall also brings up interesting theories about strange physical ailments befalling those living in close proximity to wind turbines, but while the ideas are haunting, often times there aren't enough hard numbers behind them to truly scare us. The films strongest argument may actually come from its cinematography. The town of Meredith and its surrounding area are photographed so beautifully that we find ourselves dreading the thought of the landscape being corrupted by industry. It may not make you reconsider wind energy as a whole, but it definitely leaves you hoping that at least this land in particular is spared. Saturday, April 30 at 4:45 p.m., Brattle Theater
Sahkanaga
John Henry Summerour's Sahkanaga is an already great film that is made even better by the promise it shows from all of those involved in making it. Inspired by a true story, it tells the tale of of a teenager in rural Georgia who stumbles upon a mass of bodies behind a crematorium in the woods. He must spend the rest of the film figuring out what, if anything, he should do with this secret, and it slowly begins to eat away at his relationships with his friends, family, and the young girl he finds himself falling in love with. This is a film that understands the feel of the South. Each shot is coated by a sweaty, sticky romanticism, and the actors (all of them amateurs) match the scenery with performances worthy of veterans. Above all though, the film works because it is masterful at knowing when and how to change gears. At one moment it is wrenching, and in the next it becomes remarkably quiet and tender. Quite an accomplishment for Summerour's first feature. Saturday, April 30 at 7:45 p.m., Somerville Theater.
Heaven + Earth + Joe Davis
Less a standard documentary than a character piece about someone who just happens to be real, Heaven + Earth + Joe Davis is a strange, sometimes funny, sometimes somber and always engaging picture. It doesn't follow a story or make an argument, but instead simply follows Joe Davis, a peg-legged (you read that right) Cambridge local who has spent his life creating bio-art. His creations are sometimes amusing (a plane powered by frog legs), while at other they times go completely over most viewers heads (encoding artwork into bacterial genomes). But we watch all the same because Davis is some sort of human attention magnet. Even if we don't understand what he's talking about we are enthralled because of how firmly he seems to believe it. We also see the divide between how he wants us to see him and the harder realities of his life as it actually is, tainted by failed relationships and other issues. Davis may be as frustrating as he is brilliant, but either way he's very hard to look away from. Friday, April 29 at 7 p.m., Brattle Theater.
A full schedule and ticket information can be found here.