On April 8 of this year, thousands of people employed by the United States government prepared to face the reality that they were unessential. The Senate, heavily populated by Democrats, and the House of Representatives, dominated by Republicans, were locked in a conflict over a continuing budget resolution that would control federal funding for the remainder of the 2011 fiscal year. It seemed that the two parties were unable to come to a compromise. As a result, the government's funding was about to expire, and government employees deemed unessential would not go to work on Monday. A last minute compromise avoided a government shutdown.
Each year, in early February, the President proposes a budget. Congress is required to put forth a Congressional Budget Resolution, a joint resolution drafted by the Senate and the House. It is not a law. It's more of a chart—a chart of preferred spending and revenue.  Finally, appropriations committees authorize the use of federal funds. This last step requires several spending resolutions throughout the year, and it was one of these resolutions that almost brought the United States government to a standstill.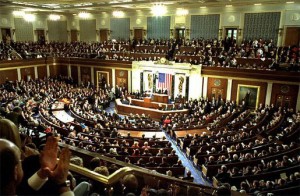 Points of contention included provisions regarding abortion and the Environmental Protection Agency. There was also heated debate over the amount of spending cuts. According to the New York Times, Republicans asked for over $61 billion worth of spending cuts, while Democrats advocated a lower number. Important concessions were made by both parties. For example, Republicans fought to eliminate funding for Planned Parenthood, a family planning service. In the final bill, funding for Planned Parenthood was not totally taken away, although the program that supports them did suffer cuts. Democrats took some heavy losses too.  Obama's transportation agenda depended partially on a high-speed rail, a project that received $2.5 billion in last year's budget. The current resolution takes away $400 million of that money. However, the news wasn't all bad. The plan increases funding for the National Nuclear Security Administration by 7 percent. The New York Times has a great interactive feature that goes through the plan step by step illustrating changes.
This time, the two parties were forced to compromise for fear of a government shut down. Inevitably, the upcoming budget debate will be even more heated—and without the specter of shutdown looming, prospects for bipartisan compromise seem dim.