Quick, what do you think of when you hear the word "pie?" The traditional golden-crust-berry-filled dessert might come to mind. Or maybe the smell of Thanksgiving's spicy sweet potato staple. A tangy key lime tart might pop up on occasion. But there is a whole other craving that may be generated: savory pies.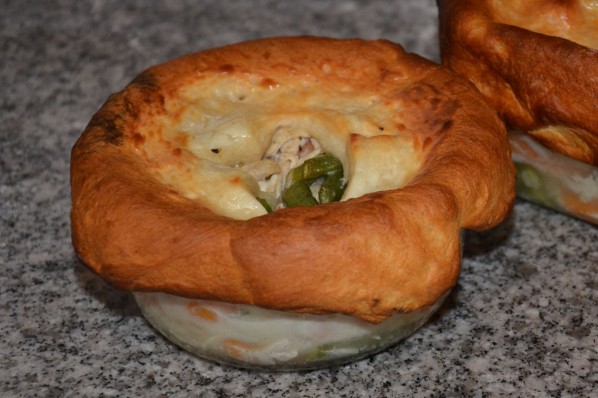 From quiches to spinach pies, adding savory ingredients to a flaky crust can get you a tasty meal. Leftover chicken and frozen vegetables in the fridge can turn into a scrumptious chicken potpie that will leave your taste buds asking for more. The following recipe simplifies the art of pie making by using premade dough, but if there is enough time to devote towards making dough from scratch, by all means proceed.
Mini Chicken Pot Pies with Bacon
5 bacon slices
1 1/2 cups chopped onion

12 oz. baby carrots

1 8-oz. package trimmed green beans, cut into 1 inch pieces
1 3/4 cups low-sodium chicken broth
2/3 cup plus 1 tablespoon sour cream
3 cups coarsely shredded chicken
1 sheet puff pastry, such as Pillsbury.
Salt and pepper
Preheat oven to 450 degrees F. Cook bacon in large skillet over medium heat until crisp. Reserve drippings on skillet and place on paper towel and drain. Chop bacon into small pieces.
Add onion to skillet and sauté until tender and golden, about 8 minutes. Add carrots and green beans and stir for about 1 minute. Add chicken broth and bring to a boil over high heat. Reduce heat to medium high and boil until some liquid is reduced and vegetables are almost tender, about 8 minutes.
Stir 2/3 cup sour cream, chicken, and bacon. Bring to a simmer and season with pepper. Divide mixture among four 2-cup soufflé dishes or one 9-inch deep-dish pie dish.
Roll out pastry and cut into 4 squares. Top each soufflé dish with pastry and fold edges down onto rims of dishes. Brush the top of the crust, careful not to brush edges, with sour cream. Cut small X in center of crusts and pierce all over with a fork.
Bake potpies until crusts are golden brown and filling is heated, about 20-25 minutes.