Two years ago, every conference that writer Susan Orlean was invited to speak at was about the death of journalism. Two years later it's still not dead, and at last weekend's narrative nonfiction conference, the future even seemed, well, bright.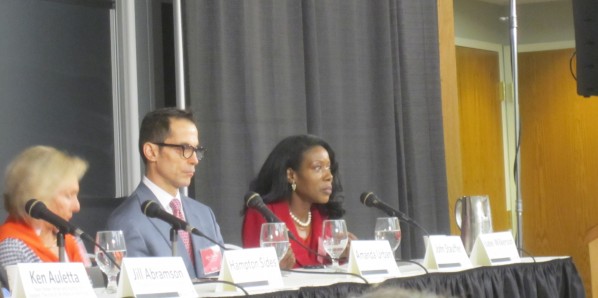 The Power of Narrative: The Rebirth of Storytelling, sponsored by the Boston University College of Communication, gathered writers, editors, literary agents and publishers to discuss the craft of long-form journalism. Among the heavy-hitters were authors Susan Orlean, Gay Talese, Isabel Wilkerson and New York Times Managing Editor Jill Abramson, all champions of literary journalism.
Narrative nonfiction (also called long-form journalism or creative nonfiction) is the style of journalism that reads like a short story or  a novel, but with real names, as narrative nonfiction legend Gay Talese said. The extremely rigorous style of reporting requires the writer to invest enormous amounts of time in a project, researching the history, interviewing sources and becoming intimate with every detail of the story; Boston University Professor Isabel Wilkerson spent 15 years researching and writing her book on the America's Great Migration, The Warmth of Other Suns.
With that kind of commitment, writers have to hope that someone is going to read and pay for these stories. But when  sites like the Huffington Post and Gawker make journalism snack-sized, is there still an appetite for a nonfiction feast?
The answer from all of the panelists was a resounding "yes." There is and always will be an appetite for well-reported, well-written, compelling stories.
What medium these stories will be told on and how to make a living from telling them was a little less clear.
Abramson spoke about a few new outlets for narrative nonfiction. There is the The Atavist, which publishes original nonfiction stories for digital devices like the iPad and the Kindle, and Byliner.com, which recently released Jon Krakauer's "Three Cups of Deceit." Longreads.com collects long-form stories from various publications on one website and tells the reader how long it will take to read each piece. Non-profit newsrooms like ProPublica, fund investigative journalism pieces, one of which won the 2011 Pulitzer Prize for National Reporting. All of these are fairly recent ventures, however, and it is still unclear how much of a profit they will draw.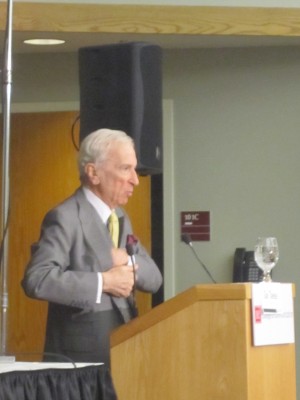 The good news is that the craving for narrative nonfiction is huge, said literary agent Amanda Urban.  "Narrative nonfiction is at a premium. It's much harder to sell a novel today," she said.
As to how to make a living from it, Outside Editor-at-Large Hampton Sides told it straight: "You got to be poor. You shouldn't be doing this if you think you're going to make a lot of money. We have to do this because we love it and we're passionate about it. The money will come later. Or not."
Susan Orlean, New Yorker staff writer and author of The Orchid Thief, gave what she called an inspirational cheerleader talk; "despite all predictions of gloom, I feel like there has never been a better time to tell stories."
"The packaging is changing, but the content is not," she said, citing the debate between e-books and paper copies.
"Why do we even set it up as a battle? It's like do you use a manila envelope or a white envelope? It's a delivery system, I don't care what format it's in."
During one discussion, Isabel Wilkerson challenged the panelists to think of 10 reasons to be positive about narrative nonfiction and New Yorker staff writer Ken Auletta quickly jotted down 14. Optimism for the future of these stories is obviously not lacking, but the pesky details still have to be sorted out.