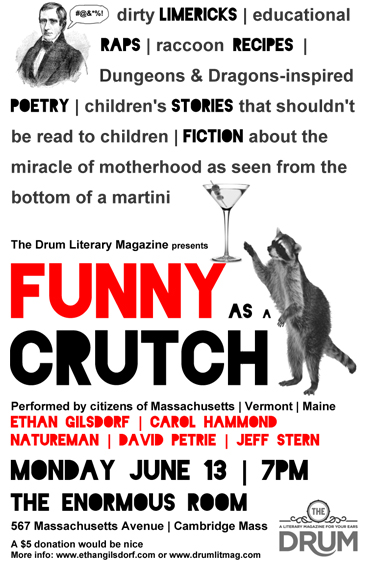 Monday, June 13
Boston nerdlord writer Ethan Gilsdorf and various New England confederates present Funny as a Crutch, a comedy-music-rap-audio-fiction spectacle the crew describes as a "deep, dangerous vein."  A 5-ish dollar donation "would be nice" for the 7 PM show at the Enormous Room in Cambridge's Central Square. Get a rabies booster before attending.
Tuesday, June 14
21+? Bring your student ID to Kings for College Night for free bowling and pool after 9 PM. The less-than-legal will need to get more creative for tonight (check out one of the under-21 standbys).
Wednesday, June 15
The Boston Phoenix hosts its 2011 Best Music Poll Awards at the Brighton Music Hall starting at 7 PM for the 21+. The Phoenix BMP issue kick-off features Boston acts Bodega Girls with special guests indie-electro outfit freezepop and indie rockers Mean Creek. The party and concerts are free with an RSVP at the link above.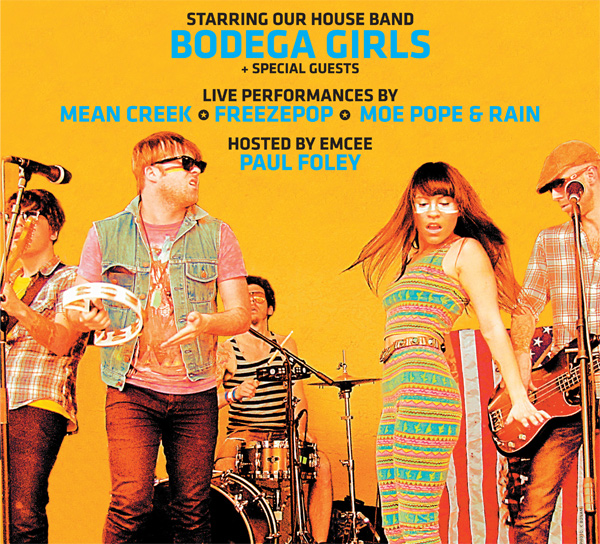 Thursday, June 16
Tonight kicks off the Blues Barge concert series behind the Boston Harbor Hotel at Rowes Wharf. Catch Jeff Pitchell, an International Songwriting Competition Finalist, from 6 to 10 PM al fresco.
If you find yourself near Harvard around lunchtime, the Club Passim Summer Stage will host soul guitarist and vocalist Marget Glaspy from 1 to 2 PM on Palmer Street near the Harvard Coop.
The Free Beer Tour (authors Josh Wilker [Cardboard Gods], David Anthony [Something for Nothing], and Pete Nelson [I Thought You Were Dead]) hits Brookline Booksmith at 7 PM with readings, food and free booze to start off Father's Day weekend. All cards on the table, now: I have never heard of nor read any of these authors. But even if this turned out to be a vaguely more literate Blue Collar Comedy Tour, it'd be rude to turn down the hospitality.
Friday, June 17
The Esplanade Hatch Shell's Free Friday Flicks have finally arrived… albeit with easily the least enticing of this summer's line-up. Eddie Murphy's Daddy Day Care (2003) will begin at sunset, ending at approximately half past the ninetieth poop joke.

The Boston Harbor Hotel on Rowes Wharf launches its own free series of outdoor classic movies with a showing of the detective film-noir Laura (1944). All shows at the BHH will begin at dusk.
If you often find your Shakespeare overly conforms to a capital-consumerist bent, you might try the Anarchist Society of Shakespeareans' rendition of A Midsummer Night's Dream at the Democracy Center in Harvard at 8 PM. Admission is spitting on a portrait of Henry Kissinger (a joke).
Saturday, June 18
Although 2011 hasn't exactly served up the scorchers (and Saturday isn't pegged to buck the trend), nothing says summer camaraderie like a full-scale water pistol massacre. Banditos Misteriosos (those rascals, them) have orchestrated the fourth annual Boston Water Gun Fight: the Battle for Boston at 2 PM. As with all Banditos events, location is TBA at midnight the night before. Register using the link above to secure a spot on either the Back Bay Swamp Creatures or the Revere Horse Men army. Costumes expected.
The Boston Sailing Center at Lewis Wharf will offer free skippered sailing trips around the Harbor as part of its June Open House. Free rides last from 1 PM to 5 PM.
Sunday, June 19
The 2011 Boston Bazaar Bizarre jumbles handmade, homespun and artisanal  whatsits into Union Square from noon to 6 PM. Vendors include purveyors of stationary, marshmallow-pastry confections, cosmetics, jewelry and anything you could ever want screen printed.