Those among the Allston army of cheapness who complain that there's never anything to do in the neighborhood beside play "avoid-the-shard" can shut their yaps for one week (see Friday and Saturday). Beyond the weekly standards, the next half-fortnight promises slingbabies, lions and signed Celtics swag (or at least looking at all of those things), plus a couple events that just might inadvertently bring some culture to your summer. All, as always, on the cheap.
Monday, June 18
Brookline, Allston's inexplicably refined and justifiably finicky neighbor, continues its (pirate-themed!) Summer in the Parks Outdoor Film Series tonight with Hook (1991) at Devotion School Field, 345 Harvard Street near Coolidge Corner. While the paint-eating scene has doubtless been responsible for its share of toddler hospitalizations over the years, nothing beats Rufio and Captain DusHoff Hook. Crowing starts a bit after sunset.
Tuesday, July 19
Look, I really did try, but it seems the Tuesday curse barrels on. Give one of the standbys a shot and try back next week, pardner.
Wednesday, July 20
We here at the Quad pride ourselves on keeping our hallowed publication spick-and-span of all strains of judgment. It is in this spirit that we cast nary a glance askew at those who might want to attend (or happen upon, perhaps) the monthly meeting of the Boston Babywearers, an enthusiast (support?) group for parents who want the freedom to "walk the mall, clean the house or go hiking, all while not having to worry about your little one" by strapping little Earworm to their person. Not sure how those who went apespittle over Babies can nonchalantly stumble into a meeting (10 AM to noon at the MIT Stratton Student Center) of be-slinged infants and their carriers, so we'll leave the alibi hatching to you.
The all-free-all-the-time Boston Landmarks Orchestra presents Tchaikovsky selections tonight at the Esplanade Hatch Shell at 7 PM. Each week the Landmarks Orchestra will feature world-renowned sopranos, tenors and guest musicians in addition to the core populist instrumentalists.
L.A. act A Fine Frenzy also plays for free at the North End's Fairmont Battery Wharf tonight starting at 7 PM.
Thursday, July 21
Somerville's SomerMovie Fest 2011 continues this week with Iron Man (2008) at Lincoln Park. Bit of a trek, but free is free.
Friday, July 22
The Highland Street Foundation's Free Fun Fridays works a double shift today, blowing open the gates of not only the downtown Sports Museum but also Dorchester's Franklin Park Zoo. What say you pop over to TD Banknorth Garden for a peak at Larry Bird's locker then hitch the Orange Line to Forest Hills for a novelty lion ice cream or anaconda churro? And, you know, maybe see an animal or two, since you're there already.
The day's cultural cheapery continues as Isabella Stewart Gardner Museum opens its doors to the unwashed and unpaying masses from 5 to 8 PM this evening. Museum staff warns that queues can get longish on free nights, as the Gardner has limited capacity.
Sample local film talents at the free (and second annual) Allston Film Festival, featuring shorts by quite a few BU COM grads. Looks like this event is being held at someone's house/backyard in Allston, but Facebook says it's all open to the public (and would Zuckerberg ever lie to you?).
Free Friday Flicks at the Esplanade Hatch Shell continues at sundown with Despicable Me (2010).
Saturday, July 23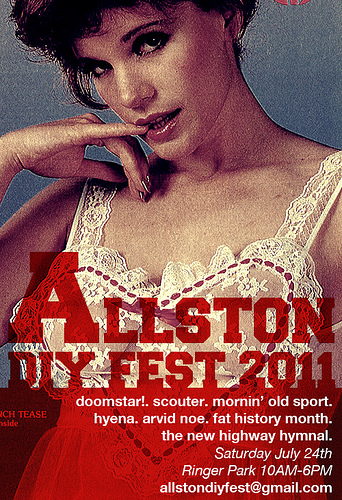 The delightfully amorphous Allston DIY Fest2011 descends on Ringer Park and surrounding porches and basements all day, with electric and acoustic stages brimming with local acts, skill-sharing workshops and how-to training (fix a flat while learning your rights and hula hooping), a free market and more blanket hangs than you could shake an alternative menstrual product at. Check the Facebook event for affiliated house shows throughout Allston.
Feel vaguely creepy AND poor at the Pru's Family Film Festival, which brings Happy Feet (2006) to the South Garden at sundown. Said the astute and razor sharp Roeper, "I think kids will love it, because the penguins are cute."
Sunday, July 24
The Emerald Necklace Conservancy presents the first of its  summer movie offerings with Jeff Daniels and a pre-Rogue, pre-vampire fetish and pre-pubescent Anna Paquin in the fowl-fetched Fly Away Home (1996). The geese start molting their downy life lessons at sunset at the Jamaica Pond Sugarbowl, a fifteen minute walk from campus along the Necklace or take the Orange Line to Jackson Square and follow Perkins Street to the Pond.
To cap a banner week for cheapass Robin Williams fans in Boston (Hook, Happy Feet), Friends of Christopher Columbus Park presents Mrs. Doubtfire (1993) in all its "What's this, a man cooking dinner?" glory. Robbie pulls on the pantyhose and garters around 8 PM at the North End wharfs near Faneuil.