Classes have been out for a while, and summer is full swing. For many of us, this means big blocks of unstructured free time where there used to be homework, studying, and procrastination. It's no surprise that summer is a popular time to begin creative projects. Whether it's working on short stories, starting a new photo project or just getting the old band back together, creative productivity tends to go through the roof in the summer.
And the Quad wants to see what you've been up to.
We're trying to revamp our creative submissions page. In the past, it was a busy page, a collection of the best of the best in BU's artistic talent. This past year it fell by the wayside, but we want to bring it back with a vengeance.
We want you, satirists and comedians, screen-printers and carpenters, filmmakers, musicians, photographers, dancers. Whether you make dresses, short stories, or songs about anything, we want to know about it.
Send your work to submissions@buquad.com.
We'll look at what you send and get in contact with you. Some of your work will be posted on our site during one of our Issues in the Fall 2011 semester. You'll be profiled on our site in an interview, and we'll advertise you to all our friends and followers.
The Quad has had the pleasure of featuring some amazing student projects in the past (see below), and we're excited to bring the work of a new generation of students to our readers.
Previous artists featured in the Quad's Creative Submissions section. This could be you.
Zac Little's Household Objects Have It Out for Glenn Beck – Video
College of Arts and Sciences alumnus uses puppets made out of household objects to commentate on the hard-hitting political issues, and it winds up being somewhat funnier and exponentially more valid than most cable news programs.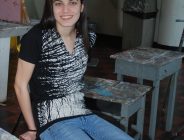 Amber Vittoria's Fashionable Passion for Light– Fashion Design
College of Fine Arts student Amber Vittoria uses light as her inspiration, and the interview showcases her creative process. She creates her own t-shirt designs inspired by light, movement, color, and photography. The final product is something truly unique.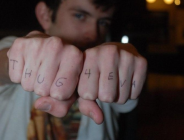 Julian Glander Reminds Us Why We Should Be Suspicious of Raccoons– Writing
Julian Glander, COM student and now freelance designer, shared this short story. It tells the most disturbing and hilarious talking-animal short-story you are bound to read in a while.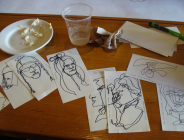 Portraits of Strangers– Visual Art
Portraits of Strangers was a campus-wide visual arts project that called student artists to a simple but difficult challenge: using one continuous line, draw a stranger. It could be on a piece of paper or a sidewalk or the wall of a bathroom stall.