Pasta, pasta, pasta! What a better way to start off the semester than a fresh pasta salad packed with an array of colorful veggies and different textures.  Many foodies have a hard time imagining a salad as a full meal. Yes, its hard to think that vegetables can satisfy your appetite, but don't avoid them. Instead, use them to color your plate.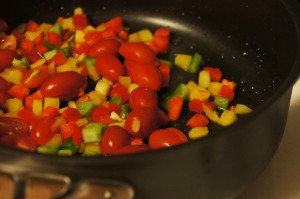 Pasta salads bring together the perfect combo of flavors and nutrition. Think al dente rigatoni mixed with crispy bell peppers and firm feta cheese cubes, all dressed in a tangy shallot vinaigrette. Haven't sold it to you yet? Not only is it delicious, it's also easy to make and can be stored in the fridge for future cravings.
Multicolor Rigatoni Salad (adapted from Barilla Special Edition Cookbook):
14 oz. Rigatoni pasta
1 ½ cups bell peppers (red, yellow and green), chopped
½ cup cherry tomatoes, halved
¼ cup + 2 tablespoons olive oil
½ cup white vinegar
1 shallot, minced
½ cup black olives, sliced
1 cup diced feta cheese
1 ½ cups baby spinach
Salt and Pepper
Cook pasta according to box directions. Drain, rinse with cold water, and rinse again. Set pasta aside.
In a large saucepan, heat 2 tablespoons olive oil over medium high heat. Add bell peppers and tomatoes and cook for 2-3 minutes or until slightly tender. Season with salt and pepper.
In a small bowl, combine ¼ cup olive oil with 1/4 cup white vinegar and diced shallot. Using a fork, mash together slightly. Add the rest of the vinegar and stir to combine. Set aside.
In a large bowl, combine olives, feta cheese, pasta and bell pepper mix. Stir in the shallot dressing and mix. Right before serving, add spinach and season with salt and pepper.