The Journalist Globetrotters: Foreign Correspondents at BU
What happens when a society of journalists invites international journalists to speak for an audience of undergraduate student journalists? A lot of questions happen.
This Monday, correspondents from the World Press Institute came to Boston University at the behest of BU's chapter of the Society of Professional Journalists (BUSPJ). Representing Argentina, Australia, Brazil, China, Egypt, Finland, India, Moldova, Pakistan and Uganda, the 10 speakers offered glimpses into their relationships with the media and the circumstances of their countries.
One hot topic at the event was future employment, a popular concern for any scared college student, let alone a journalism student.
Moldovan representative Andra Miron, a correspondent and executive producer of Publika TV, explained, "If you really want to do this job, you will do it." Before she became a professional journalist, she used to run into new teams on the street and ask them, "Can I come with you? I can carry the trifold!"
Natalia Montagna, a producer and anchor for Channel 10 TV News in Argentina, echoed similar sentiments about needing the right enthusiasm for the job. "If you want to do things in the correct way, you have to love it, you have to love the profession."
The audience also inquired about the journalists' observations of the U.S.
Miron humorously noted that the U.S. has "more resources, more journalists and a much more bigger country."
Representatives Benon Oluka, a special projects writer for The Daily Monitor of Uganda, and Ethar El Katatney, a freelance journalist in Egypt, took this question to thought-provoking places.
Katatney noted "how lucky journalists are here. I don't even have a press card. There's so much competition for eyeballs."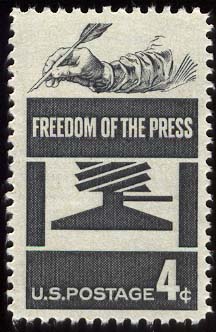 Oluka said, "More serious stuff is being done in newspapers. And the non-serious work, sort of the comedy, is being done on TV. It has higher ratings, but there's no serious work." Miron, the Moldovan television correspondent, visibly disagreed.
The most interesting discussion, however, was about censorship and differences between independent media and government-owned media.
"State media is a joke," said Katatney, referring to the largest state-owned newspaper in Egypt. Two days before Muammar Gaddafi was overthrown, the newspaper had a headline exclaiming support for him. After he was overthrown, the newspaper's headline basically said, "We won!" "It's fun! It's fun to track and follow," she added.
Even as a freelance journalist, she admitted, "I've been censored on a lot of stories by my editor."
Waqar Gillani, a staff reporter for The News International of Pakistan, shocked the audience about domestic coverage of Osama Bin Laden's death.
"Pakistani media was very quiet for a few days," said Gillani. International media did far more coverage.
The Global Times senior reporter Lin Meilian, the woman who humorously introduced herself as being "from a small town in a small country," offered a viewpoint as a journalist from China. At first, she said, "believe it or not, we don't do what the government tell us to do."
Later, Meilan admitted that working for state-controlled media affects topic matter for her publication. When a story was heading into unclear state-approval areas, she has "had to change the focus" of the story.
"I don't want to get in jail," said Meilan.
There was a definite sense of awe, appreciation and reflection as the eye-opening event came to a close. The lives of journalists across the world are very different in some telling, and sometimes scary, ways.
For more information about these foreign correspondents and the World Press Institute, check out their blog and website here.