Alone, Chicken and honey make a delectable combination of sweet and savory. Find a recipe that involves frying, add sesame seeds, and you have crisp and crunch. If that does not sound appetizing, I can't imagine what would.
It is easy to satisfy an appetite that craves something either salty or sweet, but when craving both, not all dishes can do the job. Think of orange glazed pork chops or chicken nuggets with sweet and sour sauce. Boom! Both cravings satisfied at once. Here is another recipe—one that is easier to make, but gourmet enough to awe your friends—that can make your taste buds dance.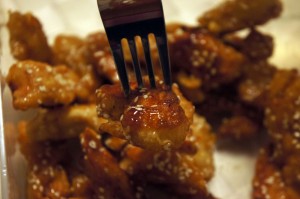 Crispy Honey Sesame Chicken (adapted from Paula Cocina)
2 medium boneless, skinless chicken breasts
1 tsp. olive oil
¾ cup all purpose flour, sifted
Pinch baking powder
¼ cup cornstarch + extra
1 ¼ cup cold water
1 egg, slightly beaten
1 1/2 tbsp. canola oil + extra for frying
3 tbsp. honey
2 tbsp. sesame seed
Salt and pepper
Soy sauce (optional)
Cut chicken into strips 2 inches long and 1 inch wide and place strips in a bowl. Add olive oil and season with salt and pepper. Cover and let sit for 10 minutes.
Meanwhile, in a separate bowl, prepare the marinade. Combine the flour, cornstarch, cold water, and egg. Beat until mixture is blended.
Coat chicken strips in cornstarch; then dunk into prepared marinade, making sure chicken is well covered.
In a large saucepan, heat 1/2-inch canola oil over medium high heat. Fry chicken strips until golden brown all over. Place chicken on paper towel and drain.
In a separate pan, heat 1½ teaspoons canola oil. Add honey and stir to combine. Remove from heat; add chicken strips and stir to cover completely. Sprinkle with sesame seeds and serve with soy sauce.