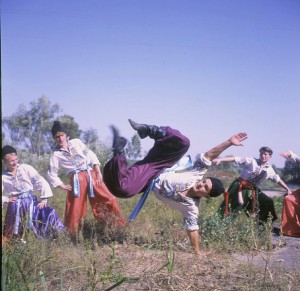 On Saturday afternoon Boston University's chapter of the China Care Fund held auditions for its second annual "So You Think BU Can Dance" competition.
The event pits BU's dance groups against each other in a fierce clash of pirouettes, synchronization, and near-disturbing flexibility to determine who can rightly call themselves the University's favorite. Phunk Phenomenon, a professional Boston dance group that includes members who danced on America's Best Dance Crew, will be headlining.
"It's just something fun to start the year off with and raise money for a good cause," says event coordinator Annie Trihn (CGS, '14).  All ticket profits from the event will be used to raise money for surgeries on Chinese orphans via the China Care Fund.  In addition to funding surgeries, the non-profit organization, established in 1993, also runs orphanage-like homes where orphans can live while adoption is sought for them.  Tickets to the show are not free, but if you attend you can rest assured that your money will not end up filched away—the cash will be utilized to help those in need.
Last year the event raised over $3000, which was used to entirely pay for a hydrocephalus surgery for a young boy.
"We hold two events a year," says Trihn.  "We hold the dance competition in the fall, and the Hope Show in the spring, which is a talent show that's less about raising money and more about raising awareness."
Trihn says the group is especially focused on getting the word out this semester: "We really want to bring more awareness to the cause.  There are so many causes to support at BU, and we want to voice ourselves better than we have before."
To find out more about the China Care Fund, visit their website.
"So You Think BU Can Dance" will take place on October 15th at 7 PM at Tsai Performance Center.