There is something about minestrone that makes it a perfect dinner. It could be the ratio of vegetables to pasta; or the soft cannellini beans that complement the distinct flavor of the tomatoes. It may also be the simple fact that it is a hearty soup.
Minestrone is a traditional Italian soup made from vegetables and stock. The recipe varies depending on the vegetables available. Many times, it includes pasta, rice or meat. Variations of minestrone appear from place to place and from one season to the next.
Read on and use this recipe to build your own delicious dinner.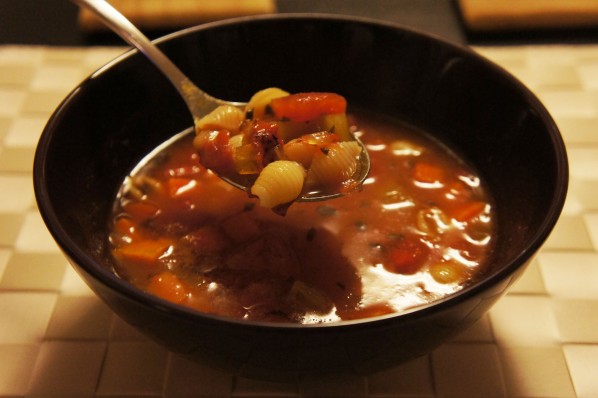 Minestrone (adapted from Taste of Home)
2 celery stalks, chopped
2 carrots, chopped
½ onion, finely chopped
1 small shallot, finely chopped
2 tablespoons olive oil
6 cups vegetable broth
1 can white or cannellini beans, rinsed and drained
1 can fire roasted tomatoes
1 tablespoon tomato paste
1 teaspoon parsley flakes
1 teaspoon oregano flakes
Salt and pepper
1 cup small pasta
In a large pot, heat the olive oil over medium-high heat. Sautee celery, carrots, onion, and shallot until tender, about 2-3 minutes.
Add vegetable stock, beans, and tomatoes, stirring until all ingredients are combined. Cook for a minute. Add tomato paste and spices. Season with salt and pepper.
Bring soup to a boil. Reduce heat and cover pot. Simmer for 25-30 minutes.
Bring flame to medium heat and add pasta to soup. Cook until pasta is al dente, about 10 minutes. Let soup cool and serve.