On Saturday, October 1, the second annual Boston Local Food Festival took place on the Boston Waterfront. The event hosted a variety of local farms, restaurants, and food trucks. It also featured live music, interactive workshops, and plenty of activities for kids. Admission to the festival was free, and all dishes were available for $5 or less.
This year, the festival strove to be a waste-free event. Attendees were encouraged to use public transportation to get to the Waterfront, all vendors used recyclable utensils and materials, leftover food was composted, and any plastic was recycled.
The festival also focused heavily on education about healthy eating. The Boston Children's Museum (the festival's host) decided to have their own booth this year; they offered activities geared towards the younger attendees, including a game of fruit-and-vegetable-themed Twister.
Several demonstrations took place throughout the day, all emphasizing the importance of local and healthy foods. Demos ranged from a Raw Vegan Lasagna presentation to a step-by-step process of how to butcher a whole hog. Many prominent demonstrations pushed for educating the public on the accessibility, benefits and affordability of local food sources.
White tents lined the Waterfront, all featuring a different local food business. Dave Henchy from Harvest Delivery promoted Cape Cod fish sharing. Fish shares provide a fresher, more economical and more convenient option for getting local fish. All fish from Cape Cod fish shares are considered "top of the boat catch," explained Henchy, meaning the fish they get are the last caught and the first off the boat. Henchy hopes to bring Harvest Delivery to campus soon at the weekly farmer's market (Thursdays at the GSU through October 27).
The festival also featured Boston Organics, a home-delivery produce company, which sends out boxes of fresh produce to costumers every week. Boxes are put together based on what's in season and what local growers are growing at the time. Representatives from Boston Organics spoke at the festival with potential costumers, and yes; they can deliver to dormitories. We asked!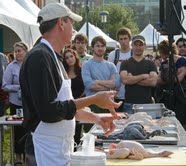 For those less interested in "health food," there were definitely other options. Along with local restaurants and businesses, the festival also hosted a number of food trucks including The Dining Car, Grilled Cheese Nation and Kick Ass Cupcakes.  Some of these vendors can even be seen scattered around campus during the week. All of the trucks seemed to be getting a steady amount of traffic and publicity at the event.
Over one hundred local vendors set up their tents on Saturday for this year's local food festival, putting together an afternoon of food, drinks, music and—thankfully—no rain. It's safe to say that the festival accomplished at least one of its goals: to build collaborations between local businesses, farms, and the public.