Saus Brings a Touch of Dutch to Faneuil Hall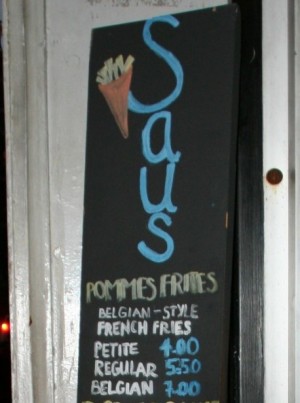 The Faneuil Hall area is on the top of the list for almost every Boston tourist. With popular national retail stores and numerous Boston themed restaurants, Faneuil Hall could be considered one of the largest tourist traps in the city, but it has seemingly no appeal to locals. However, with the recent addition of the specialty restaurant Saus to the area, residents should put aside their distaste for the commercial haven and revel in the tasty treats of this Belgian street food cafe.
The Saus menu is small, making the cafe more appropriate for a mid-afternoon snack than a full meal. With a fusion of classic Americana and Belgian fare, this cafe puts a well needed twist on traditional street food. Belgian style pommes frites and Belgian liege waffles are the staples of the menu, and each are accompanied by a large selection of eccentric dipping sauces. Everything they offer is handmade daily and cooked to order, so the food is always fresh and full of flavor.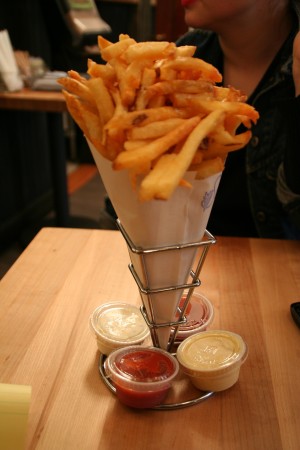 The pommes frites come in three sizes: petit ($4.25), regular ($5.50) and belgian ($7.00). Each size comes with one free dipping sauce with additional sauces offered at 75 cents a piece. The frites are served hot, straight out of the fryer, and are tossed in a small amount of sea salt. Traditionally, Belgian pommes frites are eaten with a mayo-based dipping sauce. Saus' homemade garlic mayo, called "Vampire Slayer," goes very well with the salty frites. However, their ketchup-based sauces add the perfect touch of sweetness to the snack. If looking to add a bit of spice, try it with the curry ketchup.
The Belgian liege waffle ($3.75) is the much needed sweet alternative to the savory pommes frites. A pearl sugar is mixed into the waffle dough, giving the cooked waffle a sugary crunch. The sauces offered with the waffle are a homemade Nutella, salted caramel, lemon cream and berry sauce.
Also on the menu is poutine (pommes frites topped with homemade gravy and cheddar cheese curds) and various Frikandels (dutch hotdogs). There is not a lot of seating in the cafe, so be prepared to wait for a table if it's busy.
Saus is located at 33 Union Street and is open Monday-Wednesday 12 pm-10pm, Thursdays 12pm-12am, Friday-Saturday 12pm-2am, and Sundays from 12pm-8pm. More information can be found on the Saus website.