Books, quite frankly, are awesome. They are doorways to other worlds; they are reservoirs of knowledge. They are almost always better than the movie. The Boston Book Festival (BBF) was created by people who understand how essential books are, and who wanted to share the wonder of books and the authors who write them with the city of Boston.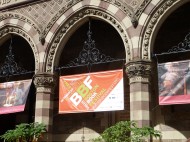 The BBF is a non-profit organization that shares its name with its most popular event. Founded in 2009 by Deborah Porter, the festival is a completely free, one-day event that combines a literary street festival with an astonishing array of panels featuring all sorts of literary dignitaries, as well as workshops for the public. This year was the third year that the BBF came to Copley Square. Events took place in the buildings surrounding the Square, including the Old South Church and the Boston Public Library.
This year, the BBF hosted over thirty different panels, featuring well-known authors as well as local celebrities and focusing on fiction, non-fiction, and poetry. There were also offerings for children and young adults. The panel topics ranged from music legends to environmental concerns to graphic novels and much more.  The panels brought artists together with the people who read their works, and allowed those people to ask questions not only about the topic, but also about the craft of writing and the importance of creativity and imagination.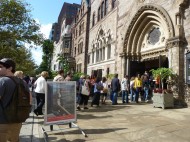 One of the most anticipated panels discussed the function of time in literature and featured Jennifer Egan, who recently won the Pulitzer Prize for her novel A Visit from the Goon Squad. Egan and her fellow panelists, Peter Mountford and Lawrence Douglas, talked about the nature of time in a novel, and the challenges that a writer faces when trying to work outside the linear frame of time. Mountford spoke about the challenges he faced while writing his book A Young Man's Guide to Late Capitalism. He ultimately reconciled a fictional character with the very real history of Bolivia. He talked about how Bolivia's history had been dominated by colonial powers and how it seemed to move in cycles. "It's a beautiful country with a wonderful culture, but it's also deeply sad, because it also acknowledges the unforward progression of their history."
Egan talked about the danger of having preconceived notions about how time should work in a novel and the difficulty of escaping linear time in a format that is linear by nature. "After all," she said, "in a book, one word follows another." When asked how she found herself at the festival, she said, "I always love coming to Boston. It's such a reader town."
The audience seemed well-satisfied with the panel—Kathryn Dechamps, an Emerson graduate student, said, "I thought it was excellent. I was so excited they really went into depth about the craft."
The BBF is not just about books – it is also about community.  The community of Boston was well represented in the literary street festival that took place that day. Inside white tents lining the square, local book sellers and publishers laughed and chatted with meandering festival attendees carrying old favorites they hoped to get signed by visiting dignitaries or poking through shelves to find a new favorite.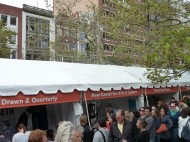 Kelly Link runs Small Beer Press, an independent publishing company centered in Easthampton, Massachusetts, with her husband, Gavin J. Grant. She was happy with the book festival: "Boston is such a writerly town. I think the festival is essential in a town where you don't have as many book stores as you would think." Link and Grant also took part in a panel earlier that day.  Other exhibitors included Boston Magazine, the Brattle and Raven bookstores, and 826 Boston, a local non-profit dedicated to "supporting students ages 6-18 with their creative and expository writing skills, and to helping teachers inspire their students to write."
For those tired from walking along the tent-lined square and rushing from panel to panel, a stage was set up in the center of the square featuring Berklee musicians Ada Pasternak, the Yesberger Band, the Caili O'Doherty Trio, and others.
Each year, the BBF creates a space right smack dab in the center of urban Boston where people can talk, think and focus on creation, innovation, and community—things that are easy to forget in the hustle and bustle of city life. It is one of the greatest gifts the city has to offer.