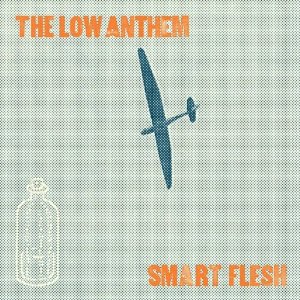 In the belabored genre of indie-folk, The Low Anthem stand out as the real deal. The Providence band, best known for their 2008 release Oh My God, Charlie Darwin are currently on tour promoting their most recent album, Smart Flesh. I spoke with singer and multi-instrumentalist Ben Knox Miller, who is excited to play at the Somerville Theatre this Friday.
There are plenty of bands these days that look nostalgically to the acoustic instrumentation and earnest story-telling of early American folk music. "Resurgent Americana," Miller calls it. But The Low Anthem were oblivious to the movement. "We didn't have much perspective on the scene and culture," Miller says. "We didn't follow music on blogs or anything… we just worked hard and were self-promoting." Perhaps this is why the band feels different from artists like Fleet Foxes, Tallest Man on Earth, or (most banal of all) Mumford and Sons; they never consciously "came out of an indie-Americana movement." The Low Anthem are at heart a DIY folk band, originally playing in bars throughout Rhode Island and Massachusetts.
"We used to play in Boston most frequently when we were starting up," Miller recounts. He began playing music with Jeff Prystowsky and former band member Dan Lefkowitz in Providence. When in Boston, the trio played at the Lizard Lounge and were at one point resident artists at Toad in Porter Square. Miller laughs, "we would play these long, 'working man sets' every Wednesday night at Toad. They would book you for 3 hours… we'd play a lot of covers." Given the band's quieter sound, it was a difficult performing environment.
The scene at Toad must have been miles apart from the recording space of Smart Flesh—an abandoned pasta sauce factory in Providence. The band, which now includes Jocie Adams, recorded in the middle of winter with no heat (the heaters were too loud, so the band set up space heaters under the thermostat to trick the system into silence) and recorded late into the night. It was, in a word, "scary," says Miller. Unlike Charlie Darwin, the record was done almost entirely live, with relatively few overdubbed tracks. The space is integral to the sound of the record, which utilizes the natural reverb of the factory to animate the band's elegant, stripped-down harmonies.
Miller's influences include Tom Waits, Captain Beefheart, Leonard Cohen, and the Scottish humorist Ivor Cutler. Miller, who admits to having a timid voice, stresses that "Tom Waits is the number one person I studied for vocals," and continues to be amazed by Waits' vocal texture and versatility. "Sometimes I don't even know how it works."
The Low Anthem have caught the ear of celebrities like Ricky Gervais and, most recently, Thom Yorke, who played "Matter of Time" on a BBC radio show last week. "Yeah, it sort of blew our minds," Miller says. The band are big fans of Radiohead and, as it so happens, are working to get Radiohead producer Nigel Godrich on board for an upcoming record. "It would be a dream," Miller remarks. In the meantime, the band have been working on plenty of new material, and are planning to release two records sometime after their tour.
The Low Anthem is playing at Somerville Theatre this Friday, October 21. It is the band's last show in the United States before they head off to complete their tour in Europe and Canada. Tickets are available at www.boweryboston.com.