Strength in Numbers: BU Veterans' Association Founded
Josh Hildebrand (GSM '12) always wanted to fly in the military.  He attended George Washington University, where he pursued his dream by joining the ROTC his junior year. He graduated in 2002 with a degree in biology and immediately went into active duty in the Marine Corps.  After spending four years in the aviation community, Hildebrand went off active duty and shipped to Boston to work for Smith Barney as a financial advisor.
In 2007, Hildebrand joined the Marine Corps Reserves and delved into the intelligence community.  In 2009, he was deployed to Iraq on a one-year mobilization.  While overseas, he realized he wanted to go back to school to figure a way to better conjoin his business and military careers.  From Iraq, Hildebrand applied to the Graduate School of Management's MS-MBA program—a two-year, dual degree track.  However, once he was accepted into the program, Hildebrand had difficulties with Veterans' Affairs and was disappointed to find there was no support system for veterans in place at BU that could help him.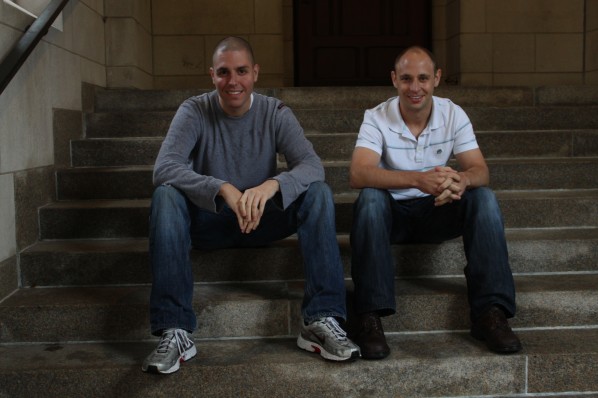 "In my class of 150, there were no other veterans," said Hildebrand, 31.  "I knew some veterans in other programs, but many of them who were enthusiastic about starting a group last year graduated."  At the end of last year, Dean Elmore hosted a reception for veterans at the BU pub.  It was then that the idea of a veteran association was first brought to the attention of school administration; however, there wasn't enough momentum to springboard anything beyond the planning stage.
This year was a different story.  Hildebrand spoke on a panel to the new MS-MBA class and found there were several veterans among them.  "They were all really interested in the idea of the club, so we went forward with it," said Hildebrand.
The Boston University Veterans' Association is less than a month old and already has twenty members.  According to Hildebrand, who is the president of the club as well as the founder, "We've been working with the registrar's office to pool data and figure out how many veterans there are at BU, but it's really about word of mouth.  There could be more than fifty or even more than a hundred.  We just don't know."
Steve Khanoyan, the club's vice-president, is excited to get started.  "We want this to be more than a school club.  We're aiming to establish a network not only with students but also with alumni and incoming students."
Khanoyan (CAS '08, GSM '13) joined the military not out of childhood aspirations but boredom after graduating from BU with degrees in international relations and economics.  "I had graduated, and my dad was giving me a living stipend.  I got lazy.  One day I drove by a naval recruiting officer, and that was that."
Since 2008, Khanoyan has been deployed to Iraq, Afghanistan, and was aboard the USS Harry S. Truman in the Persian Gulf.  He has also served on presidential protection detail in the Caribbean.  Now that he's back in the civilian realm, adjusting hasn't been easy.
"Coming back from active duty, I found I've lost tolerance for stupid stuff people do.  It's difficult getting your creativity back, too.  When you make a slide show in the military, you're given the templates, the number of slides and what information needs to be on each slide.  Preparing a presentation for class is completely different.  Also, I curse like a sailor, so learning to put the filter on is tough."
Hildebrand had trouble adjusting too.  "You have to learn to manage expectations differently, because the pace isn't the same.  Communication is also an issue. Communication in military is direct, almost harsh."
Some adjustments are easier to make than others. Hildebrand said, "If you're a manager in the business world, you're in charge of resources and the bottom line.  In the military, you're in charge of the production, performance and livelihood of those below you.  That kind of responsibility is hard on a twenty-two-year-old."
Returning from a war scenario to a college campus is just about the most severe of a lifestyle shift a person can go through—leaving a world of danger and discipline for one of plushy study lounges and easy conveniences.  Hildebrand hopes that creating a solid social network can help ease the shift.
"A lot of it comes down to camaraderie.  Being a veteran is a common ground you share with someone, a deep bond.  You're friends with any veteran you meet even if you have never met them before. The fact that you share that with someone and understand the challenges they might have faced is incredibly important.  You're much stronger when you have multiple lines, as opposed to just yourself, and when you're with people who understand your way of thinking."
BUVA's first meeting will take place November 1st, at CAS 211 at 5 p.m.  Anyone who has served in active duty for more than 90 days is welcome.