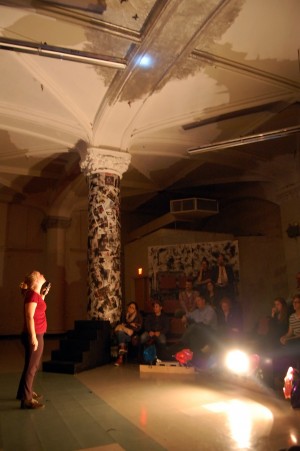 I sat in a large, shadowy room in CFA on Thursday night, watching as one actor proclaimed, "Respect the cock. Tame the c**t." There were no asterisks in his version.
Welcome to "The Violence Project," a series of scenes put together to show culture's obsession with violence and aggression. "The Violence Project" is the first production in a new idea that ties together the entire 2011-2012 CFA season. Under what's called the Keyword Initiative, every season will have a buzz word; something that sparks debate and thought that delves into probing questions regarding the concept. This year's word is violence, one proposed by the School of Theater director Jim Pertosa.
The Violence Project was meant to be whatever the students decided. According to director Adam McLean, "We were literally given no budget, no texts, no scripts, no stage crew, no nothing." Comprised of just twenty-two students, the first rehearsals were spent defining violence, he adds. "We talked about violence; what different kinds of violence there were, how is it expressed in this culture and other cultures through our mythologies, through religion, sexual, all that stuff." They were given no budget; just the space and every thing it came with.
The production was very free-form. There wasn't a true barrier between the stage area (composed of many black platforms and boxes) and the audience, and the lighting all came from in front of the actors (key lights with color filters) and flashlights the cast would shine on actors from behind the chairs. All the actors wore black with flashes of color, especially a vivid red, and the sequences were ended by the jarring beat of a large drum. McLean says, "We started looking at what's a physical language we could come up with, what's a sonic language we could come up with, what's an aesthetic movement vocabulary that we could come up with." The resulting pieces all seemed to fit together.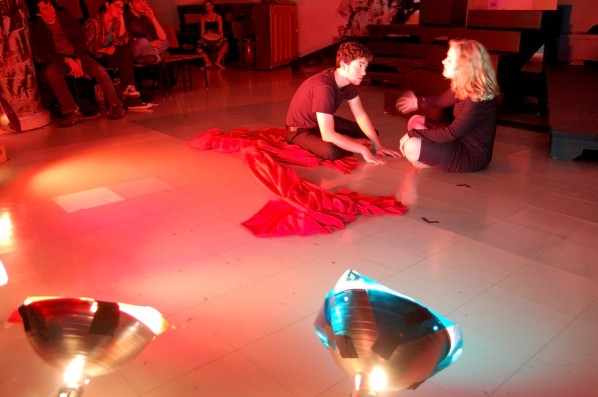 The scenes, some student or performer-written as well as pieces from established writers, were gathered by the entire cast to create a particularly moving show. Students worked for about four weeks. As McLean says, "We started with nothing and this is what we ended up with."
The Violence Project is the first production initiating an exploration of violence in the College of Fine Arts programming. For a full list of events regarding the Keyword Initiative visit www.bu.edu/cfa/events