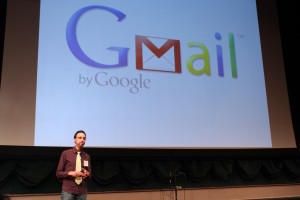 Maybe it was the wide variety of speakers, the energetic atmosphere or the good-sized audience, but this weekend's BU Inspire Conference did not feel like the first. However, this speaker series, hosted by the Howard Thurman Center, was in fact the first of its kind. It featured sixteen presentations by current students, alumni and creative minds from the Boston area.
The presentation was similar in format to TEDxBU, an event the University hosted last year that featured students and thinkers speaking on a variety of related topics. According to Emma Walters (CAS '13), one of the event's three organizers, the decision to shift away from TEDxBU to BU Inspire offered "a chance for the University to brand its own event." It would create a connection between students past and present, and the bustling creative community here in Boston. "We wanted to create a speaker series that is uniquely Boston University."
In that sense, the event succeeded: it included an interesting cross-section of approaches to art.
BU students Tarif Ahmed and Tino Bratbo discussed what art meant to them on a more personal level. Ahmed talked about how an album can be an allegory for a journey and also take on personal meaning. Bratbo, meanwhile, talked about why he appreciates tattoos: that they are a venue for expression for both the artist and the tattooed.
There were instructions in dance and a capella by BU Dheem Indian Dance Group and the Dear Abbeys, respectively. BU Dheem explained the history and techniques of the nine regional Indian dance styles, and provided a few demonstrations of moves. The Abbeys, meanwhile, preformed two pieces ("Under Pressure," by Queen, and "Diplomat's Son" by Vampire Weekend.) Music Director Luke Savoca broke the style of a capella down into its components, and there was also a demonstration on the basics of beatboxing.
Other speakers looked at the science of art. Billy Andre, an MIT graduate and anthropologist, discussed "neochoreometry." "If a picture is worth a thousand words, dance is worth a culture's lifetime," Andre said. He used motion capture programs to analyze the historical and regional influences on Turkish dance. Kate Joyce, a malaria researcher and EMT teacher discussed the role of art in epidemiology: she talked about using art as a form of expression and a way to raise awareness.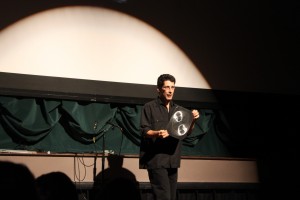 But perhaps the most engaging speakers discussed how the art has inspired them personally to create things of great beauty that can provide inspiration for others. Matthew Brand, a research scientist from Mitsubishi Electric Research Labs, discussed how seeing an optical illusion involving tinsel inspired him to harness principles of vision and light perception and create art. He used a diamond to draw deep and intricate groves into steel, creating an unbelievable image that is 720 degrees, changing with the movements of a steel plate.  "Artists have known how to game the visual system for centuries, and scientists are now catching up," Brand said.
Francis Pina (CAS 09) alumnus of Boston University and the Speak for Yourself spoken word poetry group, gave a fantastic presentation on the intersection of his two passions: poetry and teaching. He talked about using poetry to tell stories, and not just your own. To demonstrate this, he presented two poems. One was about the triumphs and difficulties of teaching in difficult neighborhoods; the other was about the experience of being a woman in a man's world. Pina took the perspective of another, spoke from her point of view, and gave her a voice that was strong and powerful. "Find your art," Pina said in closing, "and use it to inspire."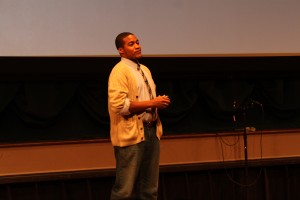 According to Walters, this installment of BU Inspire won't be the last. They are planning to continue the series on a semester basis. Though the theme of the spring conference is yet to be determined, if it is anything like this semester's event, it will certainly be one worth attending.