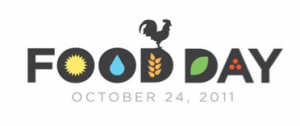 This past Monday, October 24, marked Food Day. If you didn't happen to come across anything advertising the existence of Food Day, it is a national grassroots campaign (events were held across the country) meant to raise focus on eating real food.
But what exactly do the creators of Food Day mean by "real" food?
Real food is food like whole grains and fruits and vegetables that aren't processed and don't have additives.
This year, both health and sustainability approaches were taken on the subject of eating well. The event focused on environmentally friendly agriculture as well as the impact of the food choices an individual makes. The overarching goal advertised was "nothing less than to transform the American diet."
So how did students here at Boston University eat on Monday? There's no doubt this university has a health-focused mentality. There are Sargent Choice options all over the dining halls. Someone is running at every hour of the day no matter the weather. We even have a gym that's far nicer than any I've ever seen. But in a country with an ever-growing proportion of overweight and obese citizens, Food Day is still an important step in the right direction.
There's definitely a need. The United States is a highly developed nation that has always been at the head of the pack, but health is deteriorating at a rapid speed. Today in the United States, food insecurity is a massive problem. Even for those who don't have to worry about where their next meal is coming from, it's difficult to get enough of the right things to eat. Recognizing Food Day as an annual event (much like Earth Day) is a step in the right direction towards promoting better health.
It's not the only one. National consciousness about the importance of eating well is rising. Our First Lady has taken baby steps to improve our nation's health since she took her place in the White House. She began with a short stint on Sesame Street, then progressed to a White House vegetable garden and the Let's Move campaign, which aims to end childhood obesity in the United States. Her messages tend to focus on improving the health of American children.
She's not the only one in the media sending nutrition messages. Never mind Dr. Oz, nutrition and health usually surface each day on news stations, and you can always find an article about what to eat in various magazines. We are constantly bombarded with media messages regarding ways to eat better and which "super foods" or "diet foods" we should consume. But the constant focus on which foods to eat is a flawed approach to improving the health of our nation. It's not just about what we're eating; we need to think about when we eat, how much we consume, and who we share the experience with.
The Food Day organizers came up with six principles to emphasize on October 24. The first, "reducing diet-related disease through the promotion of safe and healthy foods," seems to be what to focus on to best improve our health. But like the messages from the media, these principles are not enough. It's time to take a holistic view– to start addressing our eating patterns as much as we deliberate over what to put in our mouths. Eating a meal should be a pleasurable, social experience, but rushed schedules, constant intake of food, skipping meals and gorging later, mindless eating, and a general fixation with food have left us the victim of what we eat. I can't help but wonder how many of American's health problems would decrease if we gave more attention to our eating patterns instead of exactly what to eat.
So please, go ahead and have a piece of Halloween candy if you'd like. We will never entirely eliminate sweets and junk food from our diets, and there's no reason to. But maybe over time we can decrease the number of Fun Size Milky Way's we eat in a sitting; maybe we can eliminate the guilty feelings we have after we indulge. And maybe 2012's Food Day committee will add a seventh principle about the attention we need to give to eating patterns.
Erin Reese (SAR '13) is the secretary of Slow Food at BU. Her major is in dietetics, and she is the five-year program to receive a bachelor of science in addition to a master's in public health. She has been a vegetarian for 11 years.