What is red and white and made for change? Project Mailbox, a 3 ½ ft-tall cast iron mailbox that has taken up residence in front of University Grill. BU Stories spoke with Nick Dougherty (ENG '12), the founder of Boston University's newest non-profit.
There is a new presence on campus. A squat mailbox just outside of University Grill, smack dab in the middle of Boston University's sprawl. It is the physical manifestation of an idea—that people in a community can support each other in small ways. This mailbox is the eponymous center of Project Mailbox, a new non-profit on campus that launched officially in October of this year.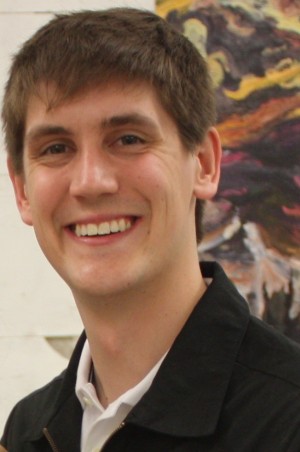 Nick Dougherty, the founder of Project Mailbox, is a tall, engaging guy. He speaks energetically, using his hands to emphasize key points in his conversation. He leans forward to make a point. But he isn't someone that would stand out in a crowd. He doesn't wear flashy clothes. The only jewelry he wears is a small silver ring that reminds him of a wave.
Dougherty is from a small town. He says that when he was little, his dad told him a story about how, if someone's family was going through a hard time, others in the community would put some money—as much as they could spare—into an envelope and put it in their mailbox. He credits the story as the basis for an idea he would have many years later.
Dougherty first thought of the Mailbox at his younger brother's graduation ceremony as he watched students being awarded for community service. "I felt like I wanted to give back, but I didn't have as much time as I wanted to actually go out and do something. I thought, what's a way that we can do some positive stuff here on campus with the amount of people we have?" He wrote the idea down in the notebook he carries with him constantly and put it away. But the idea just wouldn't leave him alone. "If it really sticks with me, if it keeps me up at night, I'm going to pursue it," he says.
Project Mailbox is based on a simple equation. If every student at BU—all 16,000 of them—contributed a quarter to charity each week, at the end of the month, that charity would get $16,000. It works like this: the BU community chooses the charity of the month by chiming in on the Mailbox's Facebook group or attending monthly meetings. Every other month, the Mailbox chooses an international charity. As students walk by the mailbox on their way to class or their dorm, they drop in whatever change they have handy. At the end of the month, the contents of the mailbox go to the charity.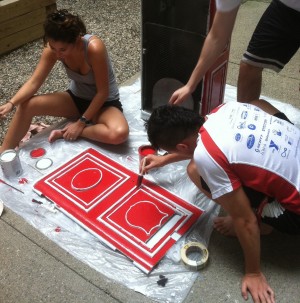 Mailbox began in July of 2010, when Dougherty bought a mailbox at an antique fair in Brimfield, Massachussets. He and his friends painted the then silver mailbox red and white, and Dougherty began the process of transporting it to BU. "I started talking with BU, and they were really enthusiastic. But the more we talked, the more I thought, this just isn't going to work." BU was afraid of the liability a free standing mailbox would represent, and Dougherty didn't want someone standing next to it all day. "That defeats the purpose of having a mailbox," he says, laughing.
It would also defeat one of Dougherty's main ideas. He thinks that charity does not have to be aggressive. Talking about the canvassers that line Commonwealth Avenue, he said, "They make you feel guilty. And you can't ever just give the $5 you have in your pocket—they ask for a credit card. I wanted to do it in a way that didn't harass people." Dougherty believes that charity doesn't have to be a struggle. It can be natural, organic, taken for granted.
After deciding not to move forward with BU, he reached out into the community to find a sponsor, and found one in University Grill. "It's one of my favorite places on campus. I know all the guys by name, they know me by name. So I brought this to them, and they were really excited about it." University Grill is one of the few businesses on campus that owns their building, and they gave Dougherty permission to set the mailbox out front, right on the line that denotes the end of their property.
Finding a location, however, turned out to be the easy part. Dougherty had to go through the extensive (and expensive) process of establishing the mailbox as an official non-profit. He had to buy insurance for the mailbox in case of damage. But perhaps the most daunting obstacle for Mailbox has been awareness. "Once people know about it, they love it, participate in it. But it's the issue of getting the word out there." Dougherty hasn't taken out advertisements or spray painted the Mailbox logo on buildings. He doesn't even want to be the one to tell you about Mailbox. "I want you to hear about it from your friends. I want a friend to tell me about Mailbox."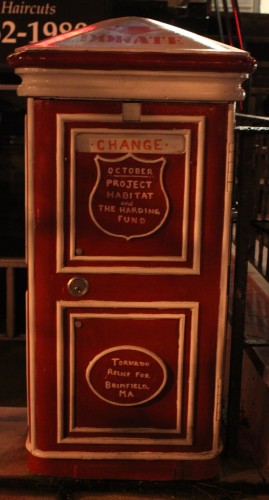 The majority of the BU community may not know it yet, but The Mailbox team, which consists of Dougherty and some close friends, is already hard at work. The first charity of the month was Project Habitat and the Harding fund. In June of 2011, a tornado ripped through the small town of Brimsfield, MA. Recognize the name? "It's the town where we bought the mailbox. They have an antique fair every year, which is one of the largest in the world. You can find anything… I found a 3 ½ foot mailbox," says Dougherty. Because other towns—larger towns—were also hurt by the tornado, Brimsfield did not get the coverage it needed to raise funds. Project Mailbox was able to help.
Dougherty tilts his head when asked about how Mailbox is doing so far. "Well, we raised $100. And we have 91 people on Facebook who support us. So we're pretty much following our model, just on a micro scale." He seems dissatisfied, and when asked, he confesses that he's ready to see Mailbox really do some good—and not just at BU. "Long term, I want other schools looking at that and saying, wow, I want to do that too." He tosses out the idea of a Mailbox Beanpot, with each school competing to raise the most money. Eventually, he says, he would like Mailbox to spread to all Boston schools before moving on to all New England schools. After that, who knows—maybe the West Coast before working back inland.
In the end, the dream is simple. A sustainable support fund that renews itself every month, ready to take on whatever challenges the community may face. Dougherty spoke specifically about local schools, a cause close to his heart. "There's a lot of times when [an after school program] will run out of money and they don't have enough time to react and get money from the government. It would be great if they could say, hey, this just happened, we need $3,000 dollars to fix it. And then we come in and give them $16,000." The ultimate goal is for the mailbox to become part of the community so that it can really make an impact where it is.
Near the end of the interview, Doughtery leans back in his chair. "I'm not asking for your laundry quarters," he says with a shrug. "Just the loose change you would lose anyway." On the mail slot of the mailbox is painted the word "Change." Change, as in small increments of money. Change, as in the difference the money creates. Change, as in how this project could revolutionize the way that BU students—and someday, maybe the whole country—thinks about charity.