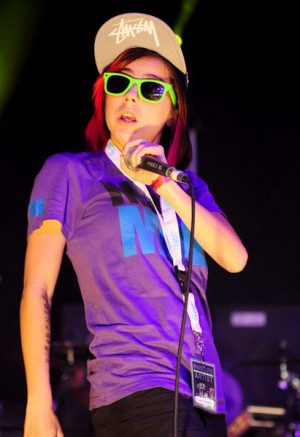 In a largely male- and African-American-dominated genre, it can be tough for underdogs to catch a break. The phrase "white female rapper" can be cause for a double take, but a handful of these ladies have made names for themselves in recent years.
Hailing from London, Lady Sovereign was one of the first white female rappers to be taken seriously and succeed in the rap game. Her talent landed her a contract with Island Def Jam in 2006 and collabs with artists like Dizzee Rascal, D12 and Obie Trice.
Meanwhile, New York emcee Princess Superstar has released seven albums since 1996 and French electropop rapper Uffie gained a Victoires de la Musique nomination (France's Grammy-equivalent) for Best Electronic Album for her 2010 debut. However, the 23-year-old's rap roots span back to 2005 when she released her first MySpace-famous hit "Pop the Glock."
Those are only a few examples of white female rappers who've taken fans by storm in the past few years. More recently, a new crop of talent has been taking over with even fresher beats and tighter rhymes. Here are a few of my faves: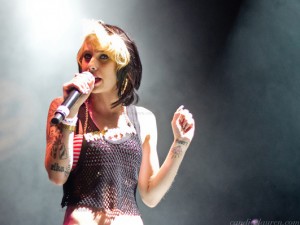 Her infamous viral hit "Gucci Gucci" was everywhere this summer. Lil Wayne gave her a nod on his mixtape Sorry 4 The Wait. She's even already got high-profile beef with Game. Kreayshawn is the pint-sized, tatted-up rapper from Oakland who rekindled the controversy around white female rap earlier this year. Many questioned her authenticity and use of certain slang terms, but she explained to Complex Magazine last month that "I'm just being me. This is what I've been doing." And whatever she's doing is working: within two months of dropping the "Gucci Gucci" video on YouTube in May, she'd reportedly signed a $1M contract with Columbia Records. Fans can expect her full-length debut in early 2012; meanwhile, she's touring the U.S. through the end of this year.
At first glance, Iggy Azalea looks more like a supermodel than a rapper. The 21-year-old might be tall, skinny and blonde, but her rhymes go hard. Legend goes that her government name is Amethyst, she moved to the U.S. from her native Australia by herself at age 16, and she's the co-owner of a weave company. All that aside, the provocative video for her first single "Pu$$y" is taking the internet by storm and gaining her support from the likes of LA Weekly and Perez Hilton. Iggy also talked to Complex Magazine, where she explained her take on white girl rappers: "Hip-hop is, one, black culture, and two, it's very male-dominated. The reason that white male rappers can survive and are accepted because they can relate to the masculinity of it all. And the reason that black female rappers can survive is because they can relate to being black. Where can a white female fit in that and relate to it?" Download Iggy's mixtape, Ignorant Art, on her official website.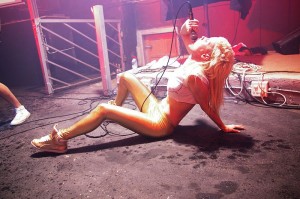 Yo-Landi Vi$$er of Die Antwoord
If you don't already know Yo-Landi Vi$$er from Die Antwoord's 2010 debut, $O$, get ready to hear her freaky raps (along with bandmate Ninja) everywhere come January, when their second LP Tensions drops. The group hails from South Africa and represents a style they call "zef" – and although it didn't take fans long to discover that elements of their act are more performance than reality, no one cares. Yo-Landi and Ninja both have experience in various other rap projects, where they adopt different names, personas and musical styles, but Die Antwoord is by far their most successful venture, gaining them international recognition and an Interscope contract here in the States. Yo-Landi's slithering lyrics weave in and out of Ninja's raps, and when it comes to the group's image, Yo-Landi takes center stage. The tiny, gold-lamé-legging-clad, platinum-mulleted fireball brings a female fierceness to Die Antwoord that really defines their musical style. Check out their hit 2010 collaboration with super-producer Diplo, "Evil Boy," as well as the freshly-released "Fok Julle Naaiers," which is speculated to be a first taste of Tensions.
Who are your favorite white female rappers? Leave a comment and discuss!