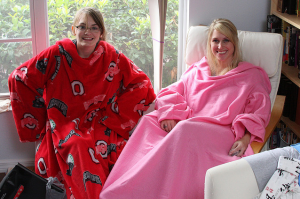 Here at Boston University, studying takes up a lot of time (since, of course, every Terrier is a wonderful student). Great studying habits, however, can have devastating effects on your fashion report card. As homework, midterms, papers, presentations and finals build up before your eyes, it's quite easy to settle into a comfy–albeit tragic–daily outfit consisting of sweatpants, hoodies, and Uggs as you scribble notes down vigorously in class and pore over readings in the library.
It doesn't have to be this way! Fret not, Terriers! You can dress in a way that is just as comfortable as your favorite sweats while still looking stylish and put together. It's all about layering, luxurious fabrics, and awareness of shape. It'll be as easy to sprawl out and cram for an exam in these duds as it would be in those tattered sweats.
1. Put down the sweatpants. We mean it. We know they're your favorites, and yes, it's great that you have school spirit, but we really don't need to see Rhett's adorable face on your legs when you're out and about. And of course, we know that they're sooooo comfy. But when you're dashing to and fro, we'd like to see you wearing something a little more polished. Try a stylish alternative–there's a plethora of really great stretchy pants out there. Try jeggings, which, when you find a good pair, look exactly like jeans, or if you're adventurous, a great pair of harem pants (they've proven to be a trend with extraordinary tenacity). Go for a pair of stretchy pants in a deep neutral, like gray, navy, or black. That way, they'll go with anything, and you won't have to spare any of that marvelous mental ability for getting dressed!
2. Make everything you wear soft, warm, and deliciously comfortable. Jersey, cashmere, silk, cotton. Make these soft and supple fabrics your friends! Step away from fleece and drape yourself in touchable textiles. Luxuriate in their comfort. It'll be like sweatshirts never happened. And with such a lovely array of styles in these fabrics, you won't ever have a lack of choices. Try a loose and perfect t-shirt with a little flair (sequins, stripes, a great print, a beautiful color, a giant tiger… the possibilities are endless) over a pair of pants like those mentioned above, or a generously cut dress in a great jersey.
3. Layering will be enormously helpful when you go from the frigid outdoors into the toasty library for a nice long date with your Sociology book. Throw on whatever you've got; a slim stretchy tank works wonderfully under a loose long-sleeved tee, a button-down blouse, and a big grandpa sweater. You can take off and put on layers as you please without sacrificing style or function. If you want a sleek look, keep your layers diaphanous and thin; you'll still be plenty warm. A great big sweater on top is also impeccably chic (just sport a slim silhouette on the bottom to balance out your frame).
4. Your options for bottoms are not just limited to stretchy pants! Skirts are a wonderfully comfortable option, depending on what type of skirt you select. Maxi and midi skirts are a godsend for stylish studiers. Try a longer length in a soft, fluid, stretchy fabric so that you have all the range of movement and bend-down-ability of pants…in a skirt! No worries about flashing your lady bits as you contort yourself into different studying positions. For warmth, throw on a pair of sweater tights and chunky boots. You won't regret it.
5. Now, we know that you love your Uggs. We acknowledge that putting your foot in one is like dipping it in a cloud.  But please, stylish ladies of BU–learn to embrace other, chicer footwear that is just as comfortable. There are so many great flats out there–it's like a whole other fabulous universe. As the frigid winter approaches, lots of companies are coming out with amazing flat or low heel boot options that will keep your feet warm and dry as well as snappily clad on long walks to the library. There's absolutely no need to wear heels while you study, but why not explore other options? As you shop, keep an eye out for cozy interiors and ease of removal–you should be able to discreetly slide them off as you read up.
6. Opt for minimal and non-distracting extras. While we at the Quad love an armful of bangles, a hand with kickass rings on every finger, shoulder-dusting earrings, and a pile of chains that would make Mr. T blush, we know that they can be uncomfortable and distracting during a long study session. You can go the super-minimal route and wear no accessories at all, or choose small but adorable things like a great pair of studs or a delicate chain and pendant. Thoughtful, well-chosen accessories speak volumes whether they're huge and splashy or small and chic.
7. Though we hope you endeavor for style as well as comfort while you study, we by no means expect you to be high maintenance! Go for low-key hair and make up. Leave it down, throw it up in a topknot, braid it loosely–keep it simple, forget heat-styling, and save your various sprays, gels, and mousses for days when you don't have a midterm the next morning! As far as makeup goes, try a no-brainer tinted moisturizer and a multi-tasking lip and cheek stain to brighten your face off, and call it a day. Easy as pie.
Finally, relax! We know it's stressful this time of year. The tips and tricks above won't erase the mountain of work you have, but they will certainly keep you looking great and feeling comfy. Take a deep breath, recite a mantra, and smile… Because nothing is more chic than a great attitude.