On Friday night, Boston University Cinematheque showed the praised indie documentary Winnebago Man.
The film revolves around filmmaker Ben Steinbauer's quest to find, understand and befriend Jack Rebney, star of the viral YouTube video "Winnebago Man," which VH1 has named the number three top viral video of all time. If you haven't seen the video by now, you've probably been living under a Winnebago. The clip features 20-year-old bloopers from an industrial video about recreational vehicles in which Rebney exclaims his frustrations with the shoot loudly and lewdly.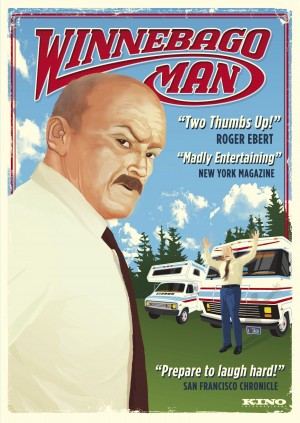 The film debuted at South by Southwest in 2009 and has appeared at numerous other festivals.  It currently holds a very respectable 91% rating on Rotten Tomatoes.
Steinbauer, a Texas native, wrote, produced, directed and starred in the film. He was in attendance Friday night.
Steinbauer prefaced the film by warning the audience that it was his first day growing a mustache and pleaded that those in attendance not judge him for his scruffy lip fuzz.  Said Steinbauer, "I feel naked, but with a mustache."  The statement was a bellwether for the bizarre and hilarious tone the evening would take.
The film, which runs for 85 minutes and can currently be viewed on Netflix instant stream, plays to the intelligent side of the brain as well as the reptile brain.  Rebney is mind-numbingly funny, pathetic, frustrating, heartwarming and dripping with genuine human nature.  You will learn to love him, crotchety though he may be, and you will savor watching him grow.  By the time the credits roll, you will be thinking: Good God, someone get this man his own television show.
The film shines not only in its subject matter but also in its construction, as the film's organization is a unique take on the typical "three act structure" of a film.  According to Cinemateque curator Gerald Peary, the film takes on three distinct phases: the first "academic phase" that delves into viral videos in general, the "profane phrase" in which the viewer becomes acquainted with the vulgarly expressive, yet well-spoken Rebney, and the "sweet as hell phase," in which Rebney accepts his celebrity and learns to appreciate his fans.
The question and answer session after the film was perhaps just as entertaining as the film itself.  Steinbauer regaled the audience with tales upon tales of stories of Rebney.  According to Steinbauer, the film's debut at South by Southwest was emotional for Rebney, who took the stage and quoted André Gide, saying "A man without anger is no man at all," before he began to cry.
In another story told by Steinbauer, he and Rebney appeared on The Tonight Show and received a strange request from Jay Leno.  "I'd be honored if you cussed me out," Leno reportedly told Rebney, who replied, "Jay, your tire is a little flat…and I don't know what the f— is wrong with your head."  Who wouldn't want to say that to Jay Leno?
Steinbauer says he still keeps in contact with Rebney and receives calls from him three times a week. "I just got married. He keeps telling me how my wife's going to leave me."
Several new projects are in the works for Steinbauer. Currently he's toiling away on a film about an infamous French conman known as "the Chameleon" who tricked a Texas family into adopting him and by whom Steinbauer has had thousands of dollars stolen already while trying to make the documentary. The filmmaker also wants to make a documentary about the resurgence of controversial comedian Dave Chappelle.
Steinbauer ended the night with a realization, stating "Now that I think about it, it's kind of weird that I'm growing a mustache.  Jack has a mustache."  Steinbauer claimed his new facial hair was in support of Movember, a month long mustache-growing charity event, but perhaps it's simply a case of the artist becoming his subject.  In that case, someone ought to remind Steinbauer to shy away from Winnebagos and the hot Iowa sun.
Or for our entertainment, point him towards them.