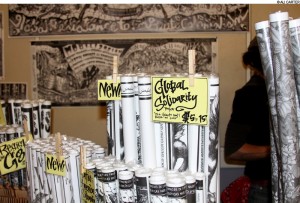 Visitors got an alternative education last weekend at the 2011 Boston Anarchist Bookfair, sponsored by the Progressive Librarians Guild at Simmons College. The bookfair, held from November 11 to 13, featured radical literature and art from 35 organizations throughout New England, New York, Pennsylvania, California and Oregon–10 from Boston alone–and drew over 300 people.
"The anarchist bookfair facilitates the dissemination of books, art and other forms of media to people who are just learning about it," said Dave Whelpley, a UMass Boston undergrad and member of a Cambridge co-op. "Most tables have a free aspect to them, so you can come in and get free literature and talk to people and get to know what anarchism means."
"So much can be learned from some of the books here that aren't in the mainstream discourse and really only printed media can provide," added Jeff Reinhart, who also participates in the Cambridge co-op.
Other aspects of the bookfair included a kick-off show with local bands at the Democracy Center in Cambridge, as well as workshops and film screenings on political, economic, social, cultural and environmental issues.
"Even though it's called the Boston Anarchist Bookfair, I think it's about a lot more than that," said Elisa Gill, a Boston University undergrad and member of the Boston Anarchist Bookfair collective that organized the event.
"For example, we had some people speaking who do not even identify as anarchists," she added. "It's all about learning from other people and being open to alternative ideas."
One of these people, Tamer Mehanna, presented the workshop "Political Prisoners and Government Repression". His brother Tarek is on trial in Boston on terrorism charges, which he said were fabricated by the FBI after Tarek refused to be an informant.
Since his brother's arrest in 2009, Tamer and the activist group the Free Tarek Mehanna Support Committee have rallied thousands in support of Tarek and other Muslims in the United States who combat FBI repression of their political rights and unjust imprisonment.
"The most important thing is that people are dedicated to radical social change–social change that gets to the root of problems," said Gill.
According to Gill, the bookfair sought to not only educate visitors about anarchism but also provide an opportunity to network and get involved in activists groups. "I've made so many connections with activists I've never met before who are working on struggles that I hadn't been involved with previously," she said.
But stigmas continue about who anarchists are, how they operate and what anarchy means. According to Reinhart, there's a big misconception that all anarchists are "white punks" who use "black bloc" tactics like wearing face-concealing black clothing, rioting and vandalism in demonstrations.
"There are lots of people from all different backgrounds that are involved," said Reinhart. "A lot of the best, most effective anarchists are community organizers."
In the panel discussion "Stand Up Fight Back!: Stories of Radical Resistance & Boston's Part in the Global Struggle", representatives from different local activist groups discussed issues affecting their communities, including Whole Foods reappropriating the Hi-Lo Market in Jamaica Plain, banks foreclosing on people's homes without due process and Boston University opening a potentially life-threatening biolab in Roxbury. While these representatives may not have been anarchists themselves, a number of anarchists are involved in their causes.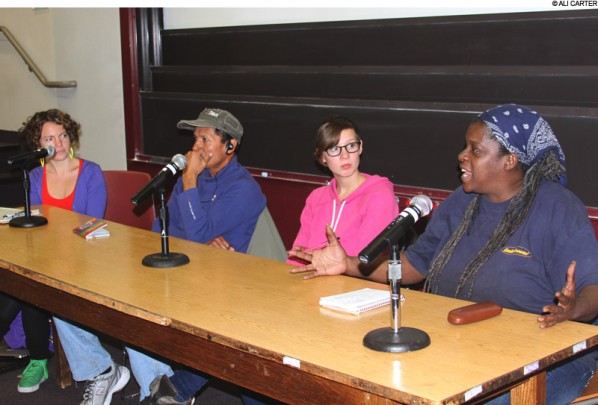 "I'd never really known what an anarchist was. People explained that they were very rowdy and they'd tear things up, but I think they've done an excellent job," said Klare Allen, head of STOP the BU Bio-Terror Lab Coalition. According to Allen, anarchists have supported their campaign for about four years now. "It's been a great relationship," she said.
In addition, the idea that anarchy means "chaos" is a misinterpretation, said Reinhart.
"Anarchy means without rulers, but that doesn't mean without leaders," he added. "I think anarchists need leaders in the sense that everyone can be a leader. It pushes the idea of leadership to everyone as opposed to one or two individuals."
While these stereotypes persist, it's actually a very exciting time for anarchists. According to Gill, liberals and progressives are now moving more toward anarchist principles like anti-authoritarianism and consensus building.
"I equate anarchism with direct democracy and anti-oppression, which are really relatable goals," said Gill.
In fact, as this article in The Phoenix highlights, the nationwide ruler-less Occupy movement against Wall Street and economic inequality, which spans political ideologies, is deeply rooted in anarchist traditions and values.
"I think the Occupy movement is the biggest thing to happen in anarchism in a while, certainly in my lifetime," said Reinhart. "It's important to recognize that whether or not there are people defining themselves as anarchists, what they are doing in setting up the camps is, in a sense, anarchism."
Although it's far from the revolution anarchists strive for, "people using consensus, general assemblies; people providing food, clothes, mutual aid to each other–that's the groundwork," said Reinhart.
In many ways, the Occupy movement has become a safety net for other social movements that have been struggling for years. By joining with unions and other activist organizations in protests and marches, Occupy has brought greater attention to their causes.
"It's not just a philosophy," said Gill. "It's about social justice right now."
Both videos by Ali Carter.