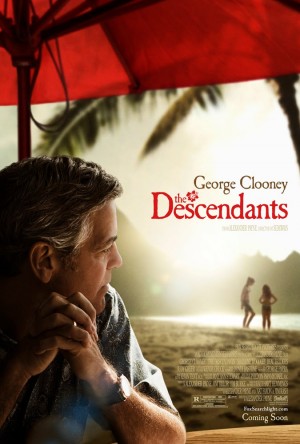 WARNING: Some spoilers.
Alexander Payne's new film The Descendants, which he wrote as well as directed, opened Saturday.
Payne's last project as a dual director and screenwriter was 2004's critically extolled wine saga Sideways.  Both films subtly hone in on themes of relationships and infidelity, masterfully blend drama with humor, and involve a middle-aged protagonist who is forced to examine the way he interacts with people.
When we meet Matt King (George Clooney), his wife Elizabeth (Patricia Hastie) lies comatose after suffering a boating accident.  King, an ineffective father, is left to handle two problem daughters, Scottie (Amara Miller), and Alexandra (Shailene Woodley).
King is a careful, seemingly harmless man whose only monarchical characteristic as hinted by his surname is his inheritance: a large tract of picturesque untouched Hawaiian land.  However, his kingship is slipping away: the trust of relatives that owns the land (which King heads) is closing in on a deal to sell the land to developers.
While deciding to whom the trust will sell the land, King struggles to keep his daughters in line, and is forced to deal with Alexandra's lovably boneheaded boyfriend Sid (Nick Krause), who tactfully provides much of the film's comic relief.
When information regarding Elizabeth's unfaithfulness comes to light, King embarks on a quest to find closure—taking with him his children and Sid.
Some things are out of King's control, which understandably frustrates him.  "Nothing just happens," he says in a moment of tension.
"Everything just happens," responds Brian Speer (Matthew Lillard), Elizabeth's lover.
As time passes, King gains a better understanding of the things he can control.  By the end, he is a man who asserts himself, gaining the respect of some and ire of others—but he has earned the right to be called King.
Many of the supporting characters arc nicely throughout the film.  Alexandra and Sid, for instance, become more and more relatable.  Those characters who don't arc—such as Cousin Hugh (Beau Bridges)—are punished, and rightly so.
Clooney breaks out of his typical uber-suave shell into the role of a fragile man who must struggle before reaching his defining moments of dominance.  His performance is striking, especially as he berates his comatose wife in frustration and as he lets her go.  Clooney should certainly be nominated for Best Actor come Oscar time.  And it's pretty funny to watch him run in flip-flops (or as Hawaiians call them: "slippers").
Judy Greer, as Speer's wife Julie, continues getting typecast as a crazy woman, though her craziness is contained to one scene utilized well, not going overboard.  Robert Forster, as Elizabeth's stern father, is excellent at pushing at King's buttons. Additionally, Hawaii looks stunning on film; the tropical archipelago is a character in and of itself.
Overall, the film is a success: both touching and humorous, illustrating life's inevitable complications and the importance of family.  It gets by with a generally solid script, despite a few moments that felt awkward and distract from the message.  Clooney and the supporting cast take the pineapple upside-down cake.  A-
Read more about The Descendants on Rotten Tomatoes or IMDB.