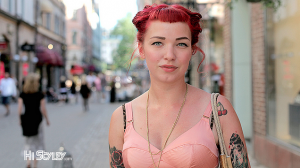 After the "Anglomania" craze of years past celebrating the work of daring Brits like Christopher Kane, Vivienne Westwood and Alexander McQueen, fashion is beginning to shift its gaze towards the cold northern land of Sweden where a burgeoning fashion scene has existed for many years and is having a major moment in the global fashion consciousness. With the late success of the American film adaptation of Swedish scribe Stieg Larsson's The Girl With the Dragon Tattoo (called Män som hatar kvinnor in Sweden or Men Who Hate Women) and its striking heroine, Lisbeth Salander, Swedish fashion is being celebrated everywhere – not only on the runway and on the glossy pages of magazines but also on the street. Swedish style represents a rare mix of trendy and practical, minimal and maximal, which comes off as impossibly fresh.
The Girl With the Dragon Tattoo's Salander, played by Noomi Rapace in the 2009 Swedish film adaptation of the book and by Rooney Mara in the recent American version, is every inch the bad-ass punk rocker. She is a delicate, miniscule and yet indestructible package of black leather and spikes, with pale skin and a dark, laser-focus gaze. Mara has been making waves in the media–both with her performance in this latest adaptation and with her striking style–on and off-screen. She is distinctive and raw in her style but always practical. While Lisbeth Salander's particular hard-edged brand of style is not a universal representation of Swedish style by any means, it is certainly a glimpse into the incredibly passionate and irreverent way of dressing that many Swedes emulate.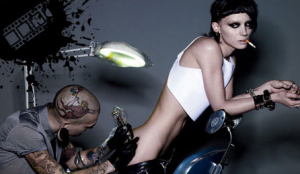 Swedish fashion on a street level is a truly remarkable thing; renowned blog stockholmstreetstyle.com has, for years, chronicled the vibrant and intensely creative fashions of the stylish in Stockholm. What is striking about Stockholm style that separates it from the American, French and Italian methods of dressing seen on such blogs as The Sartorialist  and Jak&Jill (as well as gigantic online style forums like lookbook.nu) is the sheer irreverence and sense of fun in getting dressed displayed. Swedes both young and old have fun with fashion, donning ultra-bright and often-clashing ensembles, mixing hard and soft, playing with proportion, accessorizing wildly and smiling boldly. These outfits, while they are often quite trendy, always carry a touch of practicality to them; in the cold Swedish winters, furs and layers are deployed cheerfully and so creatively that they inspire outbursts of "why didn't I think of that?" Swedish megastore H&M has become an international fashion staple, providing hip, trendy options for low prices, but H&M is not the only Swedish fashion import to hit American stores.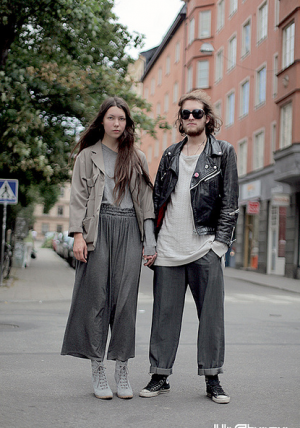 Many Swedish fashion houses have been in operation for years and are beginning to make waves in America, as well. Several Swedish denim companies, like Acne and Cheap Monday, have become cult favorites of the well-dressed, and brands like Bjorn Borg, House of Dagmar and Whyred have also become popular for their simultaneously trendy and minimal designs. Indeed, Stockholm Fashion Week has grown to rival the likes of New York and Paris, and it attracts editors and bloggers from around the world.
To emulate Swedish style exuberance, play around with proportion and color. Try things that might not work in a more conventional sense—these ensembles are less about looking put-together and polished and more about self-expression and fun. Aim for a look that doesn't look premeditated or stodgy; it should be unpretentious, interesting and comfortable. Eschew moderation entirely and go for crazy-ornate or super-stark minimal! Finally, have fun with clothes, don't worry about what others think and don't hesitate to experiment!