Now it's time to talk about the leading lady on set – this week's blog is about the Best Actress award. Will Margaret Thatcher swipe the prize from Marilyn Monroe? Will the Academy choose a woman disguised as a man over a girl with a dragon tattoo? And what about an African American maid in 1960s Mississippi? Which lucky lady will emerge victorious from battle? Read on to find out who will be giving a thank you speech and who will have to accept defeat on Oscar night.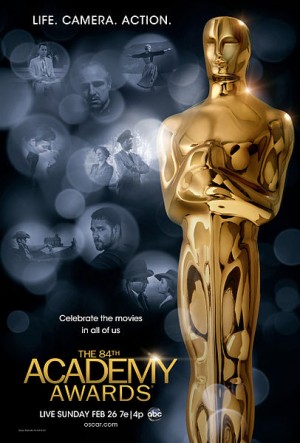 The Contenders: Glenn Close – Albert Nobbs, Viola Davis – The Help, Rooney Mara – The Girl with the Dragon Tattoo, Meryl Streep – The Iron Lady, Michelle Williams – My Week with Marilyn
The Front Runner: There doesn't seem to be any clear front runner in this category, and I am genuinely stumped as to whom will win. All five actresses are compelling in their performances, and almost all of them had to undergo huge transformations for their respective roles. If I have to choose, I'm betting that Meryl Streep, who played Margaret Thatcher, will take the Oscar. Streep, a master of accents and disguise, has already bagged a Golden Globe and a BAFTA for her portrayal of the Iron Lady. She has also been a long-standing Academy favorite for her masterful and convincing acting. Even though The Iron Lady received mixed reviews, Streep has still managed to put out a stunning performance as Britain's controversial ex-Prime Minister. It's been 29 years since she won her last Best Actress award (in 1982 for Sophie's Choice, but she's managed to rack up 17 nominations throughout her long career), and this might be her year to add a shiny new Oscar to her awards shelf.
Worth Mentioning: The Best Actress nominations contain another Oscar darling: Glenn Close. With only six Academy nominations under her belt, Close isn't as impressive as Streep in the Oscar department, but she's still considered an accomplished actress. Her performance as Albert, in the film Albert Nobbs, was nuanced and subtle but packed a walloping emotional punch in the end. Also, we can't forget Viola Davis and Michelle Williams. Davis' performance as Aibileen Clark, a black maid who has spent most of her life raising other people's children, was powerful and gut-wrenching enough to carry the film on its own. Michelle Williams, who was nominated for an Oscar last year for Blue Valentine, also seems to be a new Academy favorite. She was both alluring and lonely in her role as Marilyn Monroe, and was able to capture the glamorous Hollywood star in all her enigmatic glory.
Probably Won't Win: I'm surprised to hear that Rooney Mara received a nomination for her role as Lisbeth Salander in the American remake of The Girl with the Dragon Tattoo. Nonetheless, Mara should be congratulated–her performance was edgy and vulnerable. She perfectly captured the emotionally brittle heroine from the best selling Swedish thriller. She was highly enjoyable to watch and made viewers shudder, shake, and squirm in their seats–in the best way possible, of course. Mara probably won't be winning the Oscar this year, but a nomination is the step in the right direction.
Snubs Galore: Just like the Best Actor list, the Best Actress list also suffers from quite a few snubs. Tilda Swinton was left off of the list for her performance in We Need to Talk About Kevin where she portrayed a mother whose son has gone on a shooting spree in his high school. Described as one of the best performances of Swinton's career, many fans are griping about how the Academy is overlooking her haunting depiction of the character. Charlize Theron has also received an Oscar snub this year for her role in Young Adult as an immature, shallow, and deeply bitter 37-year-old stuck in a perpetual state of adolescence. Kirsten Dunst can also be added to the snubbed list. After having won the Best Actress award at Cannes, she was not nominated for her role in Melancholia where her performance as a severely depressed woman dealing with the imminent destruction of the world was captivating, yet fragile.