Things are settling down in a major way after the insanity of post-Grammy week earlier this month. Many artists are staying under the radar to recoup, while the regulars (Gaga, KP, and Adele) continue to make their weekly headline rounds and some just can't seem to stay out of the press…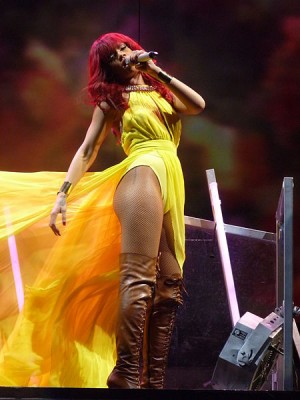 Are Rihanna and Chris Brown Back Together?
That's what skeptics are claiming after the pair seems to have reconciled: Brown was spotted at the Barbadian beauty's birthday party last Monday, then reappeared later that night on the debut of RiRi's latest official Talk That Talk remix. Next up: the duo is rumored to be performing a duet together on the new season of American Idol; however, the appearance is not confirmed. The jury's still out on what this all means as far as a potentially rekindled romance, but Rihanna fans are making their opinions pretty clear.  Twitter user JuhReeV tweeted, "I gotta admit, I lost a lot of respect for @rihanna…Makin a song w/the dude that beat your face off is not a good look," to which the sassy singer responded, "@JuhReeV neither is your avi #clapback." With both sides keeping hush about what's behind the sudden reunion, it seems only time will tell.
André 3000 Crushes Outkast Fans Everywhere
…not literally. However, he did dispel any hope for new Outkast material when he officially announced to GQ that there are there "no plans for another OutKast album." Lately the rapper's been working on various collaborations and says he hopes to focus on his solo career.
Foster the People Promises New Album
Maybe all the disappointed Outkast fans will give indie a try? Either way, front man Mark Foster told NME that the band is aiming to record a new LP by the end of 2012. While he can't promise that it will see release before 2013, fans can hold out hope for its leading single before December's end. Foster elaborates, "Hopefully we'll have a song or two out by the end of the year. I'd like to get the album done pretty quickly but we're not going to put something out until it's ready. I'd say in 2013 it'll be out."
Google Continues to Make Life Easier… Now With a Concert Listings Feature
The search engine giant just launched a new feature which displays upcoming concerts and events when users search their favorite bands. Google Product Manager Kavi Goel said, "To me, music is best heard live, so it's always exciting to find out that a band I love is coming to town." And in a town like Boston – a must-hit city for every touring artist – this is a great way to make sure you don't miss out on must-see shows!
And in case you missed it…
SNL does Beyoncé and Jay-Z…and Nicki Minaj, Taylor Swift, Bon Iver, and more
The 15 best DMX quotes from his Power 105.1 interview
Tyga's album gets pulled from stores for ripping off MLK
Celebrities' faces photoshopped onto Skrillex's hair (Also: Billboard calling Skrill "The Dubstep King"… please)