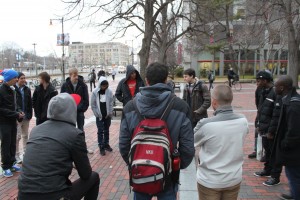 During the past two weeks, many passersby may have happened to see a freestyle rap cypher outside of the GSU. They may not have known, however, that it was organized by the Boston University Hip-Hop Stans. And as the group just recently became an officially recognized BU organization with the Student Activities Office, students can expect to hear a lot more from them.
The group has risen from very humble beginnings. Founder Guillermo Antonini (SHA '14) simply had a passion for hip-hop, and he wanted to share it with BU, which lacked a solid hip-hop following. He came up with the name from the Eminem song "Stan" – "the one about the crazy fan with Dido in the chorus," as Antonini describes it – and he feels the name really captures what the group is all about.
"I came to Boston University last year and I knew Boston would have a good music scene, with so many college kids in the city," Antonini explains. "I started a blog [called the Collab Projekt] and really became involved in the hip-hop culture, and I started developing a network of hip-hop heads, friends who really enjoyed hip-hop and would always talk to me about it. One day in the summer I just decided to add all those friends to a private Facebook group and Boston University Hip-Hop had a foundation."
As members of the group got to know each other, they started meeting unofficially at the end of last semester. Because they were an unofficial group, their resources were limited. Not only did they lack access to campus venues such as BU Central to hold events; they didn't have a place to meet. Most of the time, they would search CAS for an unlocked room. "Usually, we'd tell people to go to Room 211, and we'd post a sign on the door with the correct room," Antonini recalls.
Now, not only are they ready for an official meeting place, but they're looking to collaborate with BU Central, SAO, and WTBU to hold regular hip-hop-related events. Antonini plans on the meetings having a new formula. "Our meetings will now have listening sessions at the beginning, allowing members to network or just enjoy some good music. We'll then move to discussions on relevant topics in hip-hop. And we'll finish with some administrative notes, like brainstorming on future events or announcing local events," he explains.
For those interested in joining the club or checking out upcoming events, the best way to get in touch is to look at their Facebook page, titled Boston University Hip-Hop, or to request to join the private group Boston University Hip-Hop Stans. And for those for whom hip-hop means the same as what it means to the Stans, it's a good group to get involved in. "At the first meeting I asked the members this question, and the consensus was hip-hop is more than just a genre to the Stans," Antonini says. "Hip-hop is a daily occurrence for us, and more importantly, it's a part of our culture. No matter where we come from, hip-hop has been a part of our lives for a while now. It's something we could talk to anyone about for hours. Most importantly, hip-hop is something all of us want to see and hear more of on campus."