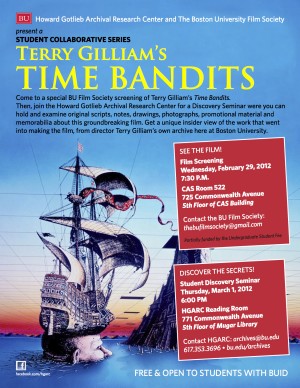 Part of what draws us to creative media is a fascination with genius. From live concerts to book signings, we like to peek around the fourth wall and put a face to the works we love. ("How did he dooo that?") Curious moviegoers had such an opportunity this week, to see Terry Gilliam's 1981 British science fiction/fantasy/comedy/fairytale Time Bandits and explore the documents behind the work.
The two-part event, a film screening and archival seminar, was a collaborative effort between the BU Film Society and the Howard Gotlieb Archival Research Center. It was also somewhat of a passion project for BU Film Society Vice President Justin Wiemer, who approached the center with the idea after seeing their comprehensive archive as a freshman.
"I was amazed at all the documents showing how much work goes on behind-the-scenes into making films and TV shows," Weimer said in an email. "It was an experience the BU Film Society and I hoped to share with other students. This was the first event of its kind and [The Gotlieb Center] was extremely supportive."
Time Bandits is a children's story centered around an 11-year-old boy named Kevin and six time-traveling dwarfs. It is directed by animator, filmmaker, and actor Terry Gilliam, best known for his contributions to the British comedy troupe Monty Python. The film lends itself to all ages, Weimer remarked, much like Star Wars or The NeverEnding Story.
"We were excited by the turnout, despite the poor weather," Wiemer said. Over 30 students showed up to the screening, which took place at the College of Arts and Sciences. "Everyone seemed extremely into it… It is incredible how the film is able to build up our expectations and shatter them just as quickly. It is endlessly creative."
After the film screening on Wednesday, students were invited to BU's Howard Gotlieb Archival Research Center on Thursday to examine original scripts, letters, promotional materials, photographs, movie posters, and a few props from the film. BU's archival center is a major research center on campus. The organization leads seminars and tours throughout the semester for students, with documents and memorabilia from hundreds of notable artists, thinkers, and leaders (running the gamut from Martin Luther King Jr. to Willem Dafoe).
"Gilliam is one of the most groundbreaking, original filmmakers of our time," said Sean Noel, associate director of the center. "The archive is significant because it documents his creative process. Students can look at any or all stages of filmmaking."
The BU Film Society leads regular screenings and film-related events. Upcoming features include Greek psychological drama Dogtooth and French New Wave classic 400 Blows. For more information see their Facebook page and Twitter.
For more information regarding the Howard Gotlieb Center see their website.