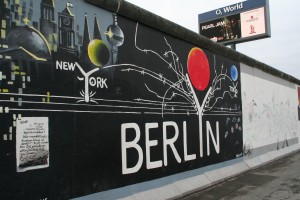 The following is an English Breakfast post featuring tales of a spring break adventure. This is no ordinary spring break though; there is no surf, sun, sand or fist pumping (OK, there could have been fist pumping). No bikinis, beach balls or real tans (but plenty of fake tans). Rather, prepare to hear of bone-chilling weather, multiple layers of clothing, extreme exhaustion and miraculous time-management.
So that may have made my spring break seem a bit extreme, but it was absolutely necessary in order to make it clear that spring break while on the Boston University London Internship Program is in no way like a stereotypical college spring break. Since it takes place in the chilly month of February and only lasts five days, this break is much different than anything you could imagine.
While most students on the program decided to kill two birds with one stone by visiting multiple destinations during the short break, my small clique and I decided to choose one destination in order to truly get the full experience. So we packed as little as possible and shipped off to mainland Europe. Our destination: Berlin!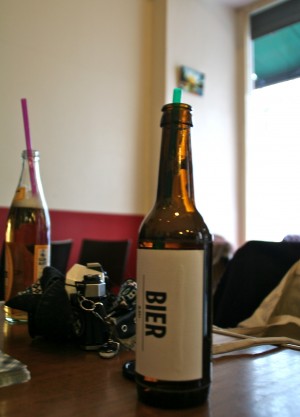 My preconception of what I would be eating in Berlin was partially correct. I assumed there would be lots of beer. Not just any beer—but really good beer. I was right, and it was cheap! No matter where we found ourselves eating, there was always an extremely inexpensive beer to drink with our meal. This cheap beer was in no way like American cheap beer (eg. PBR, Natty Light), but rather, it was quality brew full of flavor. At the Odyssee Globetrotter Hostel in the Friedrichshain neighborhood (where we stayed), they served 1 Euro beers. For those who may not know, 1 Euro is the equivalent to $1.30…what good beer could you possibly buy in America for that price?
In terms of sustenance, I was more than pleasantly surprised by the quality and range of food in Berlin. I assumed the break would be five long days of nothing but Wienersnitchel and sausages, but it couldn't have been more different than that. I ate some amazing sushi at the Miyaki Sushi Lounge and had a really good burger at Frittiersalon. The food offered at the vegetarian/vegan restaurant Yellow Sunshine was some of the tastiest I've ever had, and the breakfast crepe from a cafe called Melt was money well spent. However, the standout dish of the trip was, hands down, currywurst purchased from the Restaurant Zander stand in the Hackescher Market.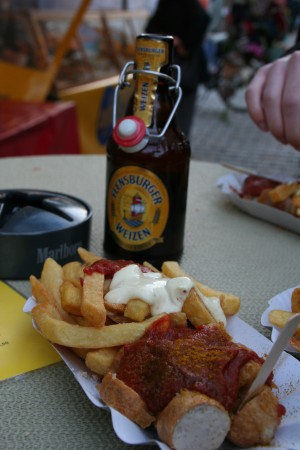 While many may say that doner kebab is the dish of Berlin, I have to argue that currywurst is better. With just four ingredients, this dish is an explosion of flavor and can ultimately cause tasters to think, "Why in the world have I never had this before?" The dish is simple: french fries topped with pork sausage (served warm and crispy, straight out of the deep-fryer) and smothered with a thick ketchup and curry powder. Now, this ketchup isn't the Heinz ketchup that you know and love from your childhood days. No, it's homemade, thick and sweet, with a rougher texture (almost like a marinara). With the curry powder sprinkled on top, this flavor combination is completely mind blowing.
The most interesting discovery was the fact that German meal portions are even larger than America's. If you ever plan to travel to Germany, keep in mind that an appetizer can typically feed four, and a main course can satisfy even more people. So no matter how hungry you are, be careful about how much food you order. If you're not, you'll end up with an entire meal (or two) worth of leftovers as my clique and I did on our first night in that crazy city.
As for the rest of the break, our time was consumed with shopping, clubbing, bar hopping and typical touristy stuff. Needless to say, Berlin is an amazing place to visit during a five day break. There are countless things to see, so much food to eat, some amazing beer to drink, and clubs everywhere you look (which are inhabbited by crazy people dancing until at least 7 a.m.); you'll never run out of things to do.