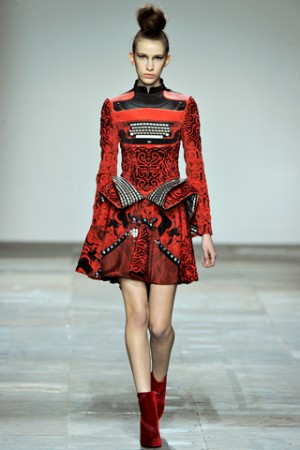 Though New York fashion week is undeniably fabulous (and there were some brilliant offerings from American designers this year), there's nothing like it when those Europeans head to the runways. Since New York kicked off fashion season a few weeks back, London, Milan, and Paris have taken their turns, putting on shows that have ranged from tough to whimsical to downright strange. Across the board, there were continuations of many of last season's trends (midi skirts, fur) with a few new ideas thrown into the mix (thigh-high slits, peplums). Here, highlights from each city.
In London, fashion takes on a whimsical and imaginative look that is unique among the major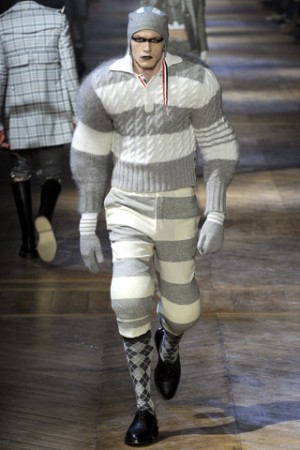 fashion cities. While New York is all about trends, London is all about creativity. Riots of color stomp down the runway, replete with madcap details and extreme proportions. These characteristics do not exclude menswear, either: at Thom Browne, models sported extreme body padding and makeup, creating cartoonish proportions — not necessarily practical, but incredibly visually arresting. For the ladies, a clear frontrunner at London Fashion Week was perennial favorite Mary Katrantzou, who is famous for her digitally-created prints. This season was no exception, with vivid, boldly paired prints featuring vintage typewriters, bathtubs, and gardens sprawled across hourglass silhouettes and peplums galore. Definitely a whimsical week in London.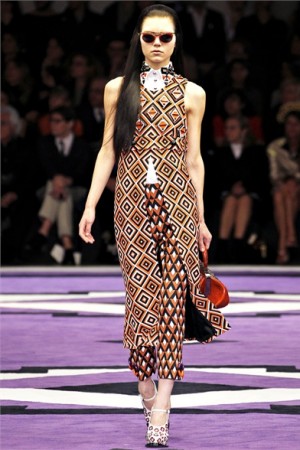 Milan Fashion Week is host to many sartorial greats; Valentino, Dolce & Gabanna, Gucci, and Prada. In Milan, the word of the day was "classic," rendered in an incredibly fresh way. As usual, Miuccia Prada stunned and surprised with this season's show, featuring prints that fell
somewhere between 1970's wallpaper and robotic precision and shoes that seemed to spill over themselves. Prada has been a consistent favorite among Milan's design houses for countless seasons for its ability to produce fresh and covetable pieces that never sacrifice that quintessential Italian quality. Meanwhile, at Dolce and Gabanna, Stefano and Domenico sent out a collection of jaw-dropping pieces both recalling their past season and introducing fresh elements. Lace, gold, religious iconography, hothouse florals, and sheerness (all D&G staples) were present in full force, but were done up in some truly original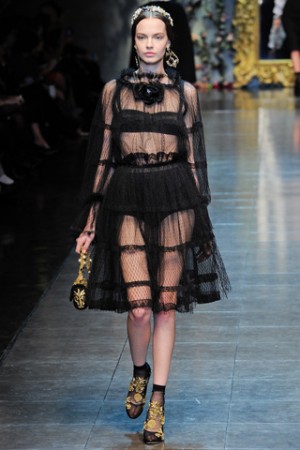 shapes, be they gowns or cocktail dresses. Milan was truly a display of masters at work this season.
And finally, Paris. Paris, the ultimate fashion mecca, chic beyond chic. The home of immortals like Chanel and Dior, the city of light. Paris shows this season were truly representative of that ideal, showcasing impeccable design, brilliant innovation, and a sense of true showmanship. Chanel was one truly impressive highlight. Mr. Lagerfeld, the brand's long-time head designer,
was inspired by minerals this season, and displayed this inspiration stunningly in the show's enormous crystalline set. Massive purple and transparent prisms shot out of the runway, creating a landscape reminiscent of Krypton. The fashion, however, was the real star. Riffing off of last season's Indian inspiration, Lagerfeld took the  tunic-over-skinny-pants silhouette shown in that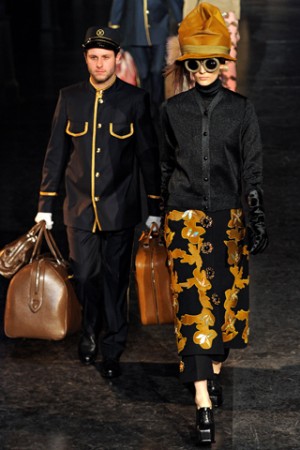 show and transformed it into something entirely new and distinctively French. Of course, Chanel signatures like tweed and camellias were all over the place, refined and elegant in shades of eggplant and forest green; a true fashion moment. At Louis Vuitton, however, showmanship took on new significance. Marc Jacobs, the brand's creative director, stunned the crowd into silence by opening the show with an enormous Belle Epoque-era steam-powered train chugging onto the runway, chock full of impeccably dressed models. They paraded out one by one, each with a gorgeously chic bellhop carting their luxurious luggage behind them (watch it here). One would be hard-pressed to find a more fabulous presentation, but the clothes really did take center stage,
with beautifully structured coats, felt hats, and a warm color palette. Mad genius.
As fashion weeks round up, one is reminded of the possibilities of fashion. It can be solemn or fun, luxe or minimal, but it is always creative and cerebral when done by such masters. Only time will tell how these shows will influence quotidian fashion, but they have certainly imprinted themselves in our memories as great shows.